Twitter CEO's Credibility at Risk After Results Fall Short
Sarah Frier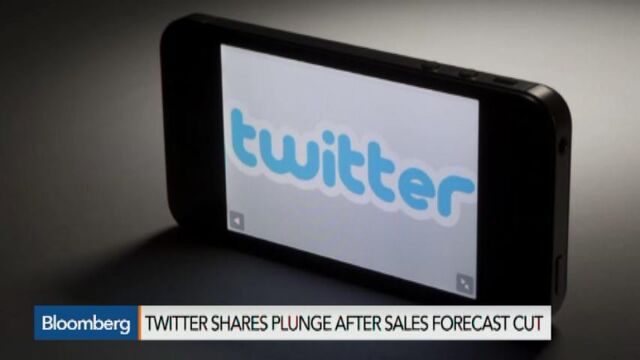 Dick Costolo's credibility is on the line.
Twitter Inc.'s chief executive officer failed to foresee a slowdown that forced the social-media company to miss analysts' first-quarter revenue estimates and cut its 2015 sales forecast, sending the stock tumbling.
While this isn't the first time Twitter has fallen short on promised results, investors had been told that new features and services, as well as a management overhaul, were starting to pay off. Now, with results missing projections and executives warning of a "slow start" to April user additions, analysts are asking whether Twitter's potential market is limited and about management's ability to lure more users and advertisers.
"In hindsight, management should have issued a pre-announcement," Victor Anthony, an analyst at Axiom Capital Management, wrote in a note to investors. Axiom downgraded Twitter shares to hold from buy.
Even after introducing new products and features to attract more people, growth in the number of monthly active members decelerated as the number of users rose 18 percent to 302 million in the latest quarter, compared with 20 percent in the prior period, Twitter said in a statement Tuesday.
"Management will again have to address credibility concerns," Mark Mahaney, an analyst at RBC Capital Markets, wrote in a research note. The quarter's performance "raises the question of how much visibility into advertiser and consumer demand for its offerings Twitter really has," he said.

Twitter shares fell 4.7 percent to $40.29 at 10:03 a.m. Wednesday in New York, after dropping 18 percent Tuesday.
"We are struggling to find any silver linings in the results," Paul Vogel, an analyst at Barclays Bank Plc, wrote in a note to investors. He said he was encouraged by many of Twitter's new products. "But we need to see more."
Performance Data
Revenue is a new concern for investors, with Twitter forecasting sales of $470 million to $485 million in the second quarter, short of the average estimate for $538 million. Full-year revenue guidance was cut to $2.17 billion to $2.27 billion, from the previous range of $2.3 billion to $2.35 billion.
Costolo said he was "disappointed" about the performance of his advertising team, which drew less revenue because the company raised its requirements for an engagement or click on its ads, Twitter said.
"There may have been a miscalculation of the effectiveness of their targeting," said James Cakmak, an analyst at Monness, Crespi, Hardt & Co. "If you're getting the right ad in front of the right person, they should be clicking on it."
Costolo has worked to deliver on promises to introduce products designed to lure more users and marketers. At a seven-hour analyst presentation in November, he detailed the things Twitter was going to accomplish with new features and by the time of the fourth-quarter earnings call, all of them had started rolling out.
Explaining Numbers
As Twitter has evolved, Costolo has also sought to explain changes in how the company's performance should be measured. He usually has a positive business reason for why a number went down. For example, after a slump in timeline views, a metric that Twitter touted as a key figure before its November 2013 initial public offering, Costolo said product improvements had made clicks less necessary, deflating the importance of a number that was supposed to measure user interest. That figure no longer appears on earnings releases, and Twitter hasn't replaced it with a new metric to track engagement.
As Twitter's monthly active user growth slowed, Costolo responded by saying that it didn't show the whole picture because 500 million people also visit Twitter's website each month without logging in.
Tweaked Metric
Now, Twitter has decided to tweak the metric, it said on the conference call, making historical comparisons more difficult. The company is adding to the total user count people who access Twitter and send tweets via SMS, or text messaging, in emerging markets, reasoning that they will one day become regular users when upgrading their phones. The change, which will start this quarter, would have added 6 million more people to the prior period's total count.
All told, the earnings miss and changing benchmarks bring into question whether Twitter can sustain revenue growth, after consistently posting numbers that almost doubled every quarter. While the company said the recent changes will ultimately help to bring in higher-quality ads, Wall Street may not buy it.
"Now you have risks on two fronts," Cakmak said. "You have the user growth concerns, and now we have to worry about monetization."
Before it's here, it's on the Bloomberg Terminal.
LEARN MORE