Ted Cruz: Anti-Gay Marriage Crusader? Not Always
The Texas senator passed up the chance to argue in a pivotal gay-rights case.
By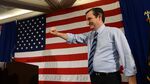 Senator Ted Cruz, who wants to be the Republican Party's lead crusader against gay marriage, ducked the opportunity to play a critical role in turning back the movement in its infancy.