S. Africa's Pick for AfDB President Seeks More Project Funds
Ekow Dontoh, Ilya Gridneff and Daniel Magnowski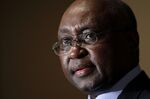 Thomas Sakala, who has won the backing of South Africa to head up the African Development Bank, said governments must raise more domestic funding for infrastructure projects to spur economic growth.
Sakala, a Zimbabwean national who has worked at the Abidjan-based bank for 31 years, is one of eight contenders to take over when Donald Kaberuka, 63, steps down as president at the end of his second five-year term in August. Infrastructure projects will be his main priority, Sakala, 60, said on Tuesday.
The new management team will work to bring to fruition key projects, "which remain on the table despite being designated as priority over the years," Sakala said in an e-mailed response to questions.
The AfDB, as the bank is known, estimates that Africa needs to spend $93 billion each year until 2020 to try to close an infrastructure gap that deprives people of access to electricity and water, adequate transport and functional telephone and Internet networks. Sakala said a focus on mobilizing domestic funding for projects will help secure external loans.
"An Africa which can demonstrate its resolve for fundamental transformation through massive investment of domestically mobilized resources will be in a stronger position to attract higher, more diverse external resources to help close the crippling infrastructure gap," he said.
Nigerian Contender
The AfDB's governors, who include finance ministers and central bank chiefs from across the continent, will elect Kaberuka's successor on May 28 during the bank's annual meetings at its headquarters in Abidjan, Ivory Coast's commercial capital.
Akinwumi Adesina, Nigeria's outgoing minister of agriculture who is also a contender for the top post, said on April 14 he aims to increase private sector lending to curb widening inequality on the continent. Job growth hasn't kept pace with economic expansion that has averaged about 6 percent in the past decade, swelling the ranks of unemployed youth and adding to political instability in the region, Adesina said.
Chad's Finance Minister Kordje Bedoumra said in an interview on Tuesday that his 29 years experience at the bank puts him in a good position to lead the institution.
"I know the bank, I know what the bank is doing," he said at his office in the capital, N'Djamena. "Africa is emerging, the economic growth is doing very well. We need the bank for the continent, to support the continent."
Other candidates vying for the presidency are finance ministers from Ethiopia, Sufian Ahmed, and Cape Verde, Cristina Duarte; Jaloul Ayed, a former finance minister in Tunisia; Mali's Birama Boubacar Sidibe, a vice president of the Islamic Development Bank; and Sierra Leone's Foreign Minister Samura Kamara.
Before it's here, it's on the Bloomberg Terminal.
LEARN MORE