Sao Paulo Traders to Tombini: Brazil 12.75% Rate Is Way Too Low
Mario Sergio Lima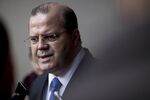 Swaps traders are putting Brazil's central bank on notice as the highest interest rates in more than six years fail to slow a surge in consumer prices.
After inflation in mid-April jumped the most in more than a decade, traders put their full support behind three more increases this year. As recently as April 15, they were divided over how much policy makers would increase its key rate.
Central bank President Alexandre Tombini is struggling to keep a lid on inflation without deepening a contraction that economists predict will be the worst in a quarter century. Being more aggressive in reining in living expenses now may give Tombini room to start cutting rates in 2016, said Carlos Kawall, the chief economist at Banco Safra.
"It's the best medicine," he said.
Policy makers will boost borrowing costs by 1 percentage point in 2015, including a 0.5 percentage point increase Wednesday, trading in interest-rate swaps show. The benchmark rate is currently 12.75 percent.
The central bank press office declined to comment when asked by e-mail about the outlook for rates. Wednesday's meeting is scheduled to end after 6 p.m. local time.
Tombini has boosted borrowing costs in the past four meetings by a total of 1.75 percentage points. After accounting for inflation, Brazil's rate is the highest among the Group of 20 nations.
Remain Vigilant
The tightening hasn't succeeded in damping consumer prices, which increased 8.22 percent in mid-April from the prior year. That's the biggest jump since January 2004 and more than 1 percentage point above the target range of 2.5 percent to 6.5 percent.
Tombini said April 14 the central bank board would remain vigilant in combating inflation, adding five days later during a meeting with investors in Washington that it is working to slow price increases to the 4.5 percent target in 2016.
Traders are pessimistic about Brazil meeting that objective. Based on the gap in yields of inflation-linked bonds and interest-rate swaps, the bond market's inflation outlook rose 0.04 percentage point to 6.18 percent on Tuesday.
"Inflation expectations for next year are still way above the 4.5 percent that the central bank is promising to deliver, so it needs to keep raising rates," said Luciano Rostagno, the chief strategist at Banco Mizuho do Brasil.
Wholesale Inflation
Wholesale, consumer and construction prices, as measured by the IGP-M index, rose 1.17 percent this month, the Getulio Vargas Foundation, an education and research institution based in Rio de Janeiro, said on its website. That was more than the median 1.11 percent forecast from 28 economists surveyed by Bloomberg. The index, which is weighted 60 percent in wholesale prices, rose 3.55 percent in the past 12 months.
Brazil's real was little changed Wednesday at 2.9385 per dollar as of 12:31 p.m. in New York.
Traders expect the central bank to reverse course next year, reducing borrowing costs as soon as February.
Roberto Padovani, the chief economist at Votorantim Ctvm and the most accurate forecaster of Brazil's interest rate in surveys by Bloomberg, agrees that borrowing costs will fall in 2016 as the government struggles to stimulate the economy.
Gross domestic product will shrink 0.85 percent this year, the most since 1990, as the jobless rate surges, according to the median estimate of analysts surveyed by Bloomberg.
"If the recession is stronger, with a bigger impact on unemployment, that would relieve inflation pressures and allow the central bank to cut rates earlier and faster," Padovani said.
Before it's here, it's on the Bloomberg Terminal.
LEARN MORE