RBNZ Maintains Key Rate at 3.5%, Would Cut on Weaker Prices
Tracy Withers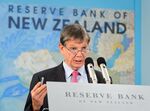 New Zealand's central bank said it will keep interest rates at a stimulatory level and would cut them if demand and prices weaken. The local dollar fell.
"The bank expects to keep monetary policy stimulatory and is not currently considering any increase in interest rates," Governor Graeme Wheeler said Thursday in Wellington after keeping the official cash rate at 3.5 percent. "It would be appropriate to lower the OCR if demand weakens and wage and price-setting outcomes settle at levels lower than is consistent with the inflation target."
Annual inflation fell to a 15-year low of 0.1 percent in the first quarter after oil prices slumped, leading traders to increase bets that Wheeler may cut interest rates this year. The Reserve Bank of New Zealand last month said rates could move up or down even as it forecast inflation won't return to its 2 percent target until 2017.
"The willingness of the RBNZ to tolerate very low rates of inflation is already fading," said Paul Dales, chief Australia and New Zealand economist at Capital Economics, who forecasts a cash rate of 3 percent by the end of the year. "If we're right in expecting economic growth to slow this year, then the RBNZ will have little choice but to reduce interest rates in order to boost core inflation."
Traders see about a 70 percent chance Wheeler will lower rates by the end of the year, according to swaps data compiled by Bloomberg.
Dairy Drop
"Lower dairy incomes, lingering effects of drought, fiscal consolidation and the high exchange rate are weighing on the outlook for growth," Wheeler said today, noting that the economy is growing at an annual rate of about 3 percent. The RBNZ last month forecast the economy will grow 3.5 percent this year and 3.1 percent in 2016.
Fonterra Cooperative Group Ltd., the world's biggest dairy exporter, today cut its forecast milk payout for the current season to NZ$4.50 per kilogram of milksolids from NZ$4.70, further curbing farm incomes. Dairy exports fell 13 percent in the 12 months ended March 31, according to government figures yesterday.
"Monetary policy will focus on the medium-term trend in inflation," Wheeler said. The timing of future rate adjustments "will depend on how inflationary pressures evolve in both the traded and non-traded sectors."
Currency Falls
The currency fell after the statement, in which Wheeler reiterated the kiwi dollar is too high. It bought 76.13 U.S. cents at 10:55 a.m. in Wellington, from 76.81 before the RBNZ announcement.
"On a trade weighted basis, the New Zealand dollar continues to be unjustifiably high and unsustainable in terms of New Zealand's long-term fundamentals," Wheeler said, citing one of the criteria the bank has set for currency intervention. "The appreciation in the exchange rate, while our key export prices have been falling, is unwelcome."
Wheeler's comments echo Assistant Governor John McDermott, who said April 23 that the subdued outlook for inflation suggested monetary policy "should remain stimulatory for a prolonged period"
The RBNZ's projections last month showed borrowing costs unchanged through early 2017 even as inflation remained below target over the next two years. Wheeler has been reluctant to join counterparts who have cut rates this year because New Zealand's economy is forecast to expand and there are signs of a house-price bubble developing in Auckland.
High Hurdle
There are "high hurdles to a cut," Dominick Stephens, chief New Zealand economist at Westpac Banking Corp. in Auckland, said in a note. "If cuts were to occur, they would occur very late in the year, because only then can the RBNZ verify that inflation expectations have fallen, and only then will the RBNZ have new mortgage restrictions on landlords in place to help slow the housing market."
House prices rose 7.7 percent in the year through March, although in Auckland, home to a third of the nation's 4.5 million people, they surged 14 percent.
The RBNZ is assessing how to curb lending to property investors to help slow housing demand as low inflation makes interest rate rises inappropriate, Deputy Governor Grant Spencer said in a speech April 15.
New Zealand was the first developed nation to tighten policy last year. The central bank paused after completing just half its intended rate increases as a strong currency, a weak global environment and falling oil prices sent inflation plunging.
"Underlying inflation remains low and is expected to pick up gradually," Wheeler said. "We are watching closely the ongoing impact on tradables inflation from global forces and the high New Zealand dollar."
The RBNZ last month forecast inflation will pick up to 1.7 percent by the end of 2016 and reach 2 percent in the third quarter of 2017.
Before it's here, it's on the Bloomberg Terminal.
LEARN MORE