Nordea's Clausen Says 'Extreme' Markets Fueling High Bubble Risk
Amanda Billner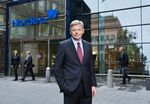 The chief executive officer of Scandinavia's biggest bank says more and more clients are adjusting their positions to gird for a sudden shift in markets.
"We are in an extreme situation: extreme monetary policy, extreme negative rates, extremely high equity markets, pretty high housing markets, particularly in Sweden," Christian Clausen, CEO of Nordea Bank AB, said on Wednesday in an interview in Stockholm. "You have a situation which is not a stable one in the long run."
Nordea this week delivered a bigger first-quarter profit than analysts had expected, in part thanks to an increase in fees as more clients look for ways to hedge against risks. With interest rates below zero in Sweden and Denmark, and monetary easing in the euro zone taking on unprecedented dimensions, investors can no longer use history as a guide to predict how asset prices will react in the long term.
"I don't think we have bubbles right now, but the risk that they will occur is pretty high," Clausen said.
The MSCI World Index, which started in 1970, touched its highest level on record on Tuesday. Sweden's main index of the country's most traded stocks traded at its highest ever on Monday. Meanwhile, bond yields have slumped with government yields trading below zero for maturities as long as five years in Switzerland, Germany and Denmark.
"You see the corporate sector doing a lot of hedging in currency, fixed income and so on," Clausen said. "So we have a lot of customer activity, which compensates quite well, as long as volatility is a bit higher, as it is right now."
Negative Rates
Sweden's central bank has lowered its main rate to minus 0.25 percent after the economy suffered recurrent bouts of deflation. In neighboring Denmark, the central bank has cut the key rate to minus 0.75 percent to defend the nation's currency peg.
As extreme monetary stimulus distorts asset prices, investors and businesses are struggling to adapt to ensure they're not caught out. Fewer clients are betting that stock markets will continue their meteoric ascent, Clausen said.
"In our savings flows, we have more than 50 percent going into balanced funds, not into equity funds. They don't just take more equity risk outright," he said. "We see our corporate customers hedging currencies, which have been pretty volatile this quarter. And we also see them hedging, or rather fixing, the rates for longer."
Nordea said on Wednesday that net fee and commission income rose 7.5 percent in the first quarter from a year earlier, making up for much of the 5.4 percent decline in net interest income brought on by negative rates.
Shifting Funds
Given the "extreme situation," Nordea is encouraging clients to do more to manage risk "right now," Clausen said. It's a trend that will probably continue to support the bank's profits, he said.
"Fee and commission income has gone up in recent years, and recent quarters, very steadily, around 8-10 percent, and I think that will continue," Clausen said. "People are not putting their money into negative rates. They invest in funds, which gives us an inflow. Whether it will compensate one-to-one, that's difficult to say."
Clausen said Nordea isn't planning to pass negative rates on to private customers. The bank is "looking into" possibly charging institutional customers in Sweden, though "it won't be right now," he said. Such a step "may come depending on how monetary policy develops," he said.
"We are looking at it and analyzing how to do it and be ready to do it if rates go even lower, like they are in Denmark, then we have to look carefully into it," he said. "In Denmark we have started already for the biggest customers."
Before it's here, it's on the Bloomberg Terminal.
LEARN MORE