Mylan's Poison Pill May Give Teva Only a Mild Headache
Simeon Bennett, David Wainer and Elco van Groningen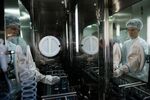 Mylan NV's Dutch poison pill may give Teva Pharmaceutical Industries nothing more than a passing headache in its $40.1 billion attempt to buy the rival generic-drug maker.
Mylan, in relocating to the Netherlands for tax reasons last year, set up an independent foundation, or "stichting," a centuries-old legal structure that can help the company ward off an unwanted offer by issuing new shares. The poison pill would only delay an acquisition by Teva by a few months at most, rather than prompting the Israeli drugmaker to walk away altogether, according to a person familiar with the company's thinking.
Teva is discussing its bid directly with Mylan's shareholders, people familiar with the matter said this week, after Mylan's board unanimously rejected the $82-a-share cash and stock offer yesterday. Mylan's foundation would need a Dutch court's backing to keep Teva at bay for long, said Ken Cacciatore, an analyst at Cowen & Co. in New York.
"That is exceedingly unlikely," Cacciatore wrote in a note. "We continue to believe this process will be relatively straightforward."
Mylan's Dutch foundation was created "to prevent a non-supported offer for the issued shares in the capital of the company," according to a copy of its charter on file with the Dutch chamber of commerce.
The foundation, governed by a four-member board of directors who are independent of Mylan, can at its discretion exercise an option to buy new preferred shares accounting for half of the company's total issued shares.
Not Trivial
A similar structure helped Royal KPN NV, the biggest Dutch phone company, fend off a $9.6 billion takeover bid by Carlos Slim's America Movil SAB in 2013. Pieter Bouw, a former chief executive officer of the Dutch airline KLM, was chairman of KPN's foundation at the time and has the same role at Mylan's foundation.
Still, there's no guarantee that the foundation will act, said Liav Abraham, an analyst for Citigroup Inc. in New York.
"The exercise of the poison pill is not a trivial matter," Abraham wrote in a report this week. The foundation's board, while it may face pressure from Mylan, "is strictly independent and it is not within its scope to opine on the company's strategy. Instead, its objectives are to protect the interests of the company and all stakeholders."
The poison pill's validity can be upheld in court if it's found to be proportional, reasonable and temporary, Abraham said. The foundation can request to cancel the preferred shares if it wants to remove the hurdle, she wrote.
Dutch Courts
Walter Samuels, a spokesman for Bouw, declined to comment on the conditions in which the foundation would exercise its option. Denise Bradley, a spokeswoman for Teva, and Nina Devlin, a Mylan spokeswoman, also declined to comment.
There are crucial differences between KPN and Mylan. KPN is one of the Netherlands' largest companies, and its foundation was created to protect the interests of shareholders, employees and "Dutch society as a whole." Mylan, on the other hand, relocated its corporate residence to the Netherlands last year, and has few employees in the country, so it's less likely to win support from the Dutch courts, Cacciatore wrote.
Other situations in which foundations have exercised their options include when Stork NV issued preference shares in 2006 in a failed attempt to block a takeover by Candover Investments Plc. On that occasion, Stork's investors successfully sued the company and convinced a court to cancel the preference shares. In 2008, ASM International NV's foundation exercised its option to obtain a stake to successfully block investors who wanted to oust the CEO.
Mylan's foundation would need to convince a court to allow it the right to hold the preferred shares long enough to fend off Teva.
"We do not believe that the foundation's arguments in this case will prevail," Cacciatore wrote. "We still believe that Mylan is simply putting themselves in the best position to negotiate a good transaction for their shareholders."
Mylan said yesterday it won't consider talks with Teva unless it gets an offer of significantly more than $100 a share.
Before it's here, it's on the Bloomberg Terminal.
LEARN MORE