Milan Touts Da Vinci to La Scala as Record World Expo Starts
Francesca Cinelli and Flavia Rotondi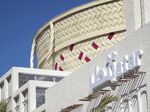 The 2015 World Expo in Milan, starts Friday and the Italian business capital is touting its world-famous treasures, including Leonardo Da Vinci's works, to capitalize on more than 20 million expected visitors.
"Expo will be the first event post crisis," Milan's mayor Giuliano Pisapia said in an interview in the 16th-century Palazzo Marino city hall. "Milan and Italy have undiscovered jewels. Expo visitors won't just come to visit the exhibition but will spread all over the country."

With 10 million tickets sold before the kick-off, including 5 million abroad, the six-month event with the theme "Feeding the Planet, Energy for Life," is already on course for a record. More than 140 countries will participate, with an unprecedented 54 pavilions designed by architects including Norman Foster and Daniel Libeskind in a 1-million square-meter area just outside Milan.
Prime Minister Matteo Renzi has also pinned his hopes for a recovery from the country's most severe recession after World War II on the event, which is forecast to add 10.5 billion euros ($11.5 billion) to Italy's economy, mainly from infrastructure spending and tourism. Milan is touting symbols such as La Scala and artists Da Vinci and Michelangelo to lengthen the period tourists stay to three to four days, Pisapia said.
More than 100 works of engineer and inventor Da Vinci have been gathered in a recently opened exhibition at Palazzo Reale, while Michelangelo's Pieta Rondanini will be showcased in a fresh setting inside the Sforza Castle, starting May 2. La Scala opera house will be open every day during the six months with a special program dedicated to Expo 2015.

Norman Foster

The event will add as many as 90,000 jobs throughout the city thanks to about 2.5 billion euros of public and private investment, with China and the United Arab Emirates, whose pavilion was designed by Norman Foster, among top investors. The Expo could serve as a first step for some foreign companies and countries to invest more at a later stage, said Pisapia, 65, a lawyer turned politician in 2011. Real-estate company China Vanke Co. Ltd has invested 30 million euros in a pavilion designed by Libeskind and plans to open an office in Milan.
The Expo will host countries, companies and non-governmental organizations. For the first time it will add nine thematic clusters, which will also host countries who couldn't afford a self-built solution. Concepts of the exhibitions will be food sustainability, waste reduction and technology in agriculture.
Consume Responsibly

Switzerland's pavilion, for instance, will focus on food sustainability and individual responsibility, with four towers filled with Swiss products that gradually deplete, encouraging visitors to consume responsibly. Visitors will experience the supermarket of the future at the Future Food District, a computerized warehouse where consumers order food, fully aware of the supply chain. The project was designed by Carlo Ratti, director of the Massachusetts Institute of Technology Senseable City Lab.

Pisapia, who inherited the Expo from his predecessor Letizia Moratti, and has dedicated most of the past four years to recoup delays, is counting on a network of about 40 mayors, including New York City Mayor Bill De Blasio, to support the exhibition and its values. The cities will sign an agreement on Oct. 16 World Food Day to share goals like fighting food waste. He's also hoping Michelle Obama will attend the event, while a network of Expo ambassadors including fashion designer Giorgio Armani and opera singer Andrea Bocelli, who will sing at the Expo inauguration night, will help market the fair.
Corruption Scandals
"The city is ready from all point of views, the delays have been more than recouped," Pisapia said in a meeting room next to his office, beneath a 17th century painting by Federico Bianchi portraying Milanese nobles and the Austrian rulers of the time. Corruption scandals, political bickering and delays, which scaled down the original list of projects, have marred the exhibition. Only one out of three new subway lines originally planned in 2008 will be ready, while a canal and cycle-lane project linking central Milan with the exhibition area will be dramatically scaled down.
Still, one of the most tangible legacies to the city will be the revamping of the Darsena, Milan's former harbor, a long overdue restoration project, Pisapia said. The city plans a series of parallel cultural events outside the Expo, to involve citizens and replicate the success of the "Fuorisalone" program during the Milan Design Week.
Expo in Town
The future of the Expo area is also something the mayor, who has recently announced he won't run for another term next year, is excited about. Money from sponsors and participants already more than offset public investment, he said.
"The site is drawing a lot of attention" for its strategic location and technological infrastructure, Pisapia said. "There are serious and concrete proposals that will make the area particularly appealing."
After-Expo plans include a university campus, a park and a research and innovation center. While pavilions were conceived to be dismantled, some including the Italian one will become permanent as probably will the basket court in the Coca-Cola Co. pavilion, Pisapia said.
"We can't foresee the unforeseeable, all that needed to be done has been done, I'm confident," Pisapia said, adding that even the Nepal pavilion will open in a scaled-down version thanks to the solidarity of local workers to the country hit by last week's earthquake.
Before it's here, it's on the Bloomberg Terminal.
LEARN MORE