House Republicans Move to Overturn D.C. Law on Reproductive Rights
Congress faces a Monday deadline to repeal a new law that would prohibit employers from discriminating against employees who obtain abortions or use birth control.
By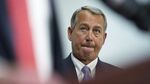 Congress faces a Monday deadline to repeal a new Washington, D.C., law that would prohibit employers from discriminating against employees who obtain abortions or use birth control, and after some internal debate, Republicans appear poised to employ a rarely used parliamentary maneuver to override the will of local elected officials.
After pressure from conservatives, House Republican leaders late Wednesday afternoon abruptly announced they will be scheduling a floor vote later this week on a "resolution of disapproval" (H.J. Res 43). Sponsored by Republican Representative Diane Black of Tennessee, it would undo the DC-passed Reproductive Health Non-Discrimination Act.
"House Republicans are continuing their war on women, especially the women of the District of Columbia," said Eleanor Holmes Norton, a Democratic congresswoman who represents more than 600,000 people living in Washington, but does not have a vote in the House.
The disapproval measure passed the Oversight and Government Reform Committee on April 21, by a 20-16 vote, according to House records, but had since been languishing in legislative limbo.
The decision to invoke Congress' power to override D.C. law — something that has not been done for more than two decades — will almost certainly turn out to be largely symbolic, as it is unlikely the Senate (which is debating Iran) will take up the resolution before the end of the week and even less likely that President Barack Obama, a supporter of abortion rights and D.C. home rule, would sign it. But the move does indicate the continuing strength of the Republican Party's most conservative flank, which forced the vote over the clear reluctance of the leaders of the House Republican Conference.
The law at issue, signed by Washington Mayor Muriel Bowser on Jan. 25, protects employees in Washington D.C. from being fired for reproductive health choices such as the use of birth control, or getting an abortion. Members of Congress who want to see the law overturned say that it discriminates against employers who have religious objections to birth control and abortion. They also argue that the law could force employers with religious objections to cover the abortions in their health care plans, or even hire abortion activists.
"We cannot let this bill stand," declared Oversight committee chairman Jason Chaffetz of Utah, in a statement prior to the panel's vote on in favor of the resolution of disapproval.
The Oversight Committee's top Democrat, Elijah Cummings of Maryland, argues that Congress is resurrecting a legislative relic that allows Congress to disapprove laws enacted by the District of Columbia — something the lawmakers have not done in decades — for the purpose of infringing the rights of women, as well as local government control.  
As of Wednesday morning, Chaffetz and Republican House leaders still had not discharged that resolution out of committee, which is a procedural requirement for a vote by the entire House.  A spokeswoman for the committee Chaffetz chairs, Melissa Subbotin, said in an email Tuesday that members were "waiting on guidance from leadership."
That changed suddenly late Wednesday afternoon after two groups of House conservatives launched efforts to press Speaker John Boehner for a floor vote.
Aides to Boehner's chief deputy, Majority Leader Kevin McCarthy and other Republicans had been declining to discuss their plans, saying only that the dispute is the subject of ongoing discussions. Black was saying the same thing, and that she was "hopeful"
Behind closed doors, however,  the chairman of the conservative Republican Study Committee, Representative Bill Flores of Texas was organizing members to come to the House floor and request publicly that leadership bring the resolution to a vote. And another group of conservatives, the House Freedom Caucus, released a statement calling on the leaders to act quickly on the measure.
By late afternoon, the House Rules Committee announced it will be considering the resolution as an "emergency measure" that allows for expedited floor action, likely on Friday. 
 "The upcoming House vote on the resolution to disapprove of the D.C. Council's encroachment on religious liberty is a direct result of the persistent efforts of Republican Study Committee members," Flores said in a statement afterward. "We first flagged this issue when the D.C. Council passed the law and have been resolute in our belief that Congress has the right and the responsibility to act in defense of our constitutional freedom of belief. This is not about one city, but rather about preserving the First Amendment right to religious liberty for all Americans."