Hong Kong Ex-Convict Becomes Billionaire With Tesla Dreams
Jill Mao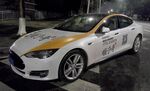 Hong Kong businessman Stephen Wong was once jailed for theft and fraud. He's now staging a comeback.
Wong, who founded Chinese TV maker Skyworth Digital Holdings Ltd., has amassed a net worth of $1.2 billion, according to the Bloomberg Billionaires Index. The majority of the fortune comes from his 36 percent stake in Skyworth. The rest is derived from a closely held electric-car maker that he's modeling after billionaire Elon Musk's Tesla Motors Inc.
The Hong Kong tycoon is seeking to develop the new venture as China pushes to contain pollution and demand for electric vehicles increases. The 59-year-old resigned as chairman of Skyworth in 2006 after he and his brother were sentenced to a six-year jail term in Hong Kong for stealing more than HK$50 million ($6.5 million) of company funds and a fraud to obtain share options.
"He wants to come back and rise again by bringing his previous experience in the capital markets and management to a new territory," said Zhong Shi, a Beijing-based independent auto analyst who's a committee member of state-backed China Automobile Dealers Association. "For entrepreneurs, their experience, determination and ideas are more important than products."
Also known as Wong Wang Sang, the billionaire was released in 2009, Skyworth said. His wife, Lin Wei Ping, serves as chairman of Skyworth. The stock jumped 4.1 percent to HK$6.93 at the Hong Kong close, the biggest gain in almost three weeks. Skyworth shares have climbed 64 percent this year, compared with the 19 percent advance in the Hong Kong benchmark Hang Seng Index.
China's Tesla
Wong owns more than 80 percent of electric vehicle-maker Nanjing Golden Dragon Bus Co. Maggie Mak, Hong Kong-based general manager of investor relations at Skyworth, confirmed Wong's stake in Skyworth and declined to comment on his ownership in the closely held entity.
"Before setting up Nanjing Golden Dragon, Wong enjoyed a good life traveling around the world with his wife and playing golf with friends," said Shi Wenhui, a brand manager at Nanjing Golden Dragon. "But he felt lonely while his friends were all busy with their work -- he couldn't live a easy life and decided to come back again."
The billionaire wants to make Nanjing Golden Dragon China's top manufacturer of electric commercial vehicles within five years, Shi said. It's goal: become "the Tesla among new-energy commercial vehicles."
BYD Co., the automaker part-owned by Warren Buffett's Berkshire Hathaway Inc., is China's biggest electric-car maker. The company's founder, Wang Chuan-Fu, has a net worth of $5.7 billion, according to the Bloomberg ranking.
'Hot Industry'
"New-energy vehicles are the hot industry that tons of investors are looking at," Zhong said.
The Chinese government has started a strategic initiative to build electric cars on the mainland. As many as 40 models will go on sale in China this year, triple the number available two years ago, Bloomberg Intelligence estimates.
"It's good for him to enter an industry that enjoys significant support from the Chinese government," said Cao He, a Beijing-based auto analyst at China Minzu Securities Co. "People like Wong won't remain low-profile forever."
Before it's here, it's on the Bloomberg Terminal.
LEARN MORE