Hillary Clinton Takes Manhattan (Money)
The Democratic presidential candidate revs up her money-raising machine with three donor events in a day.
By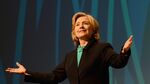 Hillary Clinton's political money race has begun, and on Tuesday she channeled the Girl Scouts, saying her fundraising motto is, "make new friends, but keep the old."
The Democratic presidential contender's first day of donor hobnobbing for her newly formed campaign included back-to-back-to-back stops at the homes of some of her most loyal supporters in Manhattan. Her haul, based on the number of attendees and price of admission: Somewhere in the neighborhood of $1 million.
The spree gave the former first lady face time with about 350 donors, each paying $2,700, a Clinton aide said. Hosts had raised at least $27,000, giving them the rank of "Hillstarters." Clinton told donors at the final stop that she wants to raise at least $100 million for the primary contest. "I feel that's certainly within reach," she said. "We have put together a terrific campaign team."
A reporter was permitted to attend as Clinton, microphone in hand, addressed a group of 150 in a large room with floor-to-ceiling windows inside the midtown Manhattan apartment of Douglas and Agatha Teitelbaum. Doug Teitelbaum is founder of investment firm Homewood Capital. Investor Jay Snyder and Architectural Digest editor Margaret Russell were co-hosts.
She began with commentary on the biggest stories of the day: violence in Baltimore and the the Supreme Court's oral arguments on gay marriage.
"Baltimore is burning," she said. "It is heartbreaking. The tragic death of another young African-American man. The injuries to police officers. The burning of peoples' homes and small businesses. We have to restore order and security. But then we have to take a hard look as to what we need to do to reform our system."
On marriage, she said, the court could give "our fellow Americans the chance under our Constitution to have equality in marriage, to broaden the circle of opportunity for all of our citizens. And we can all hope that the Supreme Court will make the right decision."
After thanking those in the room for their financial support, she said, "I want to be a president for people who dream again and feel like they can get where their ambition and hard work will take them."
Clinton, who announced her candidacy just over two weeks ago, began her donor events at noon, at the home of Lisa and Richard Perry, a power couple who once had two large portraits of Clinton on their walls. "It's a beautiful picture because Hillary is beautiful," Lisa Perry, a designer, told the New York Times in 2007, during Clinton's previous presidential run. Her husband runs a hedge fund. Ann Tenenbaum and Thomas Lee, a private equity investor, co-hosted. An ABC reporter tweeted a photo of Full House stars Mary Kate and Ashley Olsen leaving the fundraiser.
Next was an afternoon stop at the home of Arne and Milly Glimcher for an event co-hosted by investors Alan Patricof and Stanley Shuman. Arne Glimcher is a prominent art dealer and founder of The Pace Gallery. 
Clinton continues fundraising this week, after speaking on Wednesday at a conference at Columbia University in New York. She'll then travel to Washington, where she will participate in a "conversation" with donors at the home of Elizabeth Frawley Bagley, the former ambassador to Portugal.
A proven fundraiser, Clinton banked $229 million during her 2008 presidential campaign before conceding the nomination to Barack Obama. Yet aides and friends have been trying to tamp down expectations for her return to political fundraising, repeatedly emphasizing that she is only collecting money for the primary contest at this point.
Clinton represented New York as its senator for eight years beginning in 2001 before becoming secretary of state. She is already finding her adopted home state fertile ground for seeding her campaign account. Marc Lasry, co-founder of $13 billion investment firm Avenue Capital Group, told Bloomberg Politics two weeks ago that he intended to raise $270,000 for her campaign in its first week.
He did.
-- Jennifer Epstein contributed to this report.