Hermes Quarterly Sales Rise 19% as Japan Leads Growth
Andrew Roberts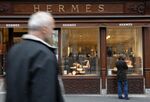 Hermes International SCA reported a 19 percent increase in first-quarter sales, as the Birkin bag maker's Japanese business showed unexpected growth.
Revenue rose to 1.12 billion euros ($1.2 billion), Paris-based Hermes said in a statement Wednesday, matching the median of analysts' estimates compiled by Bloomberg.
A 15 percent gain in Japan boosted sales compared with a strong year-earlier quarter when the French company raised prices and clients splurged ahead of a tax increase. That compensated for growth of 3.1 percent in non-domestic European sales, which was about a third the pace analysts anticipated. The growth rates exclude currency shifts.
"Japan is particularly striking," said Luca Solca, an analyst at Exane BNP Paribas. Europe is "not seeing much of a pick-up in the quarter, although there have been some important store renovations which might have affected performance."
Hermes rose 2 percent to 342.60 euros at 9:05 a.m. in Paris, extending the stock's gain this year to 16 percent.
Organic revenue growth of 8 percent in the quarter represented a deceleration from 2014, though was "quite encouraging" in the context of full-year guidance, Solca said. Hermes said its mid-term goal for revenue growth remains about 8 percent at constant exchange rates "despite the economic geopolitical and monetary uncertainties around the world."
All other regions matched estimates, though Hermes highlighted a more challenging environment in Hong Kong and Macau, and said America confirmed its potential for development.
Demand for leather goods and saddlery remained high, Hermes said. Production at two new facilities boosted capacity, while work started on two more workshops in France, the company said.
Watches continued to underperform, though the 3.1 percent decline was less than analysts predicted. Perfume sales, which barely grew, suffered from a lack of new products, Solca said.