Greek Banks Count on More ECB Cash as Bailout Talks Drag On
Nikos Chrysoloras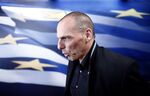 The European Central Bank is set to discuss an additional emergency cash injection for Greek lenders Wednesday as the country's bonds and stocks rebounded this week on optimism that a deal with creditors is within reach.
Euro-area central bank governors will hold their regular weekly call Wednesday to review the liquidity situation of Greece's lenders amid accelerating deposit outflows. Having lost access to capital markets and being ineligible for the ECB's regular financing operations while the bailout review remains stalled, Greece's lenders are hanging by an EBB-approved Bank of Greece Emergency Liquidity Assistance thread to stay afloat.
Pressure is mounting on Greece to wean itself from such emergency financing and break the deadlock in talks with its institutional creditors on conditions to unlock bailout funds. The inability to reach an agreement has raised the specter of a debt default and the country's possible exit from the euro.
ECB help to Greek banks "can't continue indefinitely," Governing Council member Christian Noyer said in an interview on Europe 1 radio on Tuesday. "What's needed are decisions on fundamental reforms."
The ECB's Governing Council raised the cap on ELA by about 1.5 billion euros ($1.7 billion) to 75.5 billion euros last Wednesday. ELA is funding provided by national central banks at their own risk and is extended against lower-quality collateral than the ECB accepts.
The Bank of Greece will also release figures on end-March deposits, which will likely show that the bleeding continued for a sixth consecutive month, amid growing alarm among savers over the country's place in the euro area. Deposits from households and businesses are set to hit a new 10-year record low, according to March figures to be released today, while outflows are said to continue in April.
Markets Buoyed
Greek stocks and bonds have risen this week after the government sidelined Finance Minister Yanis Varoufakis, who had drawn criticism from euro-area partners for his handling of the bailout discussions. The Athens Stock Exchange Index was up 0.6 percent at 10:43 a.m., after rising 1.4 percent on Tuesday and 4.4 percent the day before. Government bonds also rose, pushing prices on two-year notes to the highest in more than a month on Tuesday.
In a televised interview on Monday night Greek Prime Minister Tsipras said the government is doing all it can to show that Greece is willing to make the compromises needed to reach an accord with its creditors.
"The negotiations are in the most crucial stage, the final stage," he said. "We are making great efforts to cover the distance to reach an agreement. As I said in Brussels, we have covered 70 percent of the distance and we ask them to walk the remaining 30 percent together."
Meanwhile, the ECB is studying measures to rein in ELA funding to reduce the risks should political talks falter, according to people with knowledge of the matter. The central bank's staff has proposed increasing the discounts imposed on the securities banks post as collateral when borrowing from the Bank of Greece. Adjustments to the so-called haircuts may be discussed by the Governing Council in its meeting, on May 6.
'Unfair Treatment'
In his interview, Tsipras lashed out the ECB, accusing the Frankfurt-based institution of treating Greece unfairly and breaking promises to extend more liquidity.
"On February 18, the ECB took a decision which was politically and ethically unorthodox," Tsipras said, referring to a ceiling set on the exposure of Greek banks to the country's treasury bills.
Tsipras said he was offered reassurances that as soon as the country extended its bailout agreement beyond February -- which it did -- this ceiling would be eliminated. Those pledges were then not honored, he said.
"Our mistake was that we left these at oral promises and didn't ask for a written commitment," the premier said.
Weekly ELA injections are intended to match deposit outflows, and liquidity buffers are kept at about 3 billion euros to give the Bank of Greece and the ECB time to react in an emergency. ECB says that ELA cash can't be used for state-financing, including t-bills, and this would be against European Union treaties.
Before it's here, it's on the Bloomberg Terminal.
LEARN MORE