Former Christie Ally David Wildstein Set to Plead Guilty
David Voreacos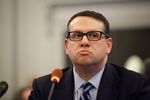 David Wildstein, a former ally of New Jersey Governor Chris Christie, is set to plead guilty, according to a person with knowledge of the matter, suggesting he may be cooperating with prosecutors probing traffic jams he ordered near the George Washington Bridge.
Wildstein is scheduled to appear as early as Friday in federal court in Newark, where grand jurors heard testimony in secret for months about gridlock over four mornings in Fort Lee, New Jersey, according to the person, who requested anonymity because the matter isn't public. The plea was originally scheduled for Thursday, the person said. The specific charges were unclear.
A plea by Wildstein, who was a top appointee at the Port Authority of New York & New Jersey, would be the first conviction for U.S. Attorney Paul Fishman in an investigation of the September 2013 lane closures. The scandal has hurt Christie's popularity as the Republican weighs a run for the White House and tests his tough-talking image with voters in Iowa and New Hampshire.
Christie denies knowledge of a plot to close two of the three local-access lanes to the world's busiest bridge, which is run by the Port Authority. If Wildstein pleads guilty and cooperates with prosecutors, he could give them an inside view of how the plot unfolded.
'Evidence Exists'
Fishman spokesman Matthew Reilly declined to comment. Wildstein's lawyer, Alan Zegas, didn't immediately return phone and e-mail messages seeking comment on the scheduled plea. Zegas has said "evidence exists" that Christie knew of the traffic jams at the time.
Once a national Republican star, Christie has tried to move past a lagging state economy and criminal and legislative probes of the scandal. An April 20 poll by Quinnipiac University found 56 percent of New Jersey voters disapprove of his performance while 38 percent gave him good marks, his lowest rating since taking office in January 2010.
Speaking to reporters Wednesday in New Brunswick, Christie reiterated what he said at a news conference Jan. 9, 2014, when he said he had no advance knowledge of the lane closures.
"I don't expect that anything's going to be different than what I said on Jan. 9," Christie said. "But I can't speculate as to what may happen or not happen. We'll see. Whenever anything does occur, we'll react to it. But I know what the truth is, so I'm not the least bit concerned about it."
Christie said he won't let the investigation affect "his political future or ability to get things done in the state."
Cooperation
Daniel Richman, a Columbia University law professor and former federal prosecutor, said if Wildstein pleads guilty, he is likely to help the government.
"In complex investigations, an early guilty plea by someone who's implicated is often entered as part of a cooperation agreement," said Richman. "One of the things to look for is the extent to which his guilty plea implicates others, either explicitly or by implication."
The scandal burst into view in January 2014 with the release of an e-mail that Bridget Kelly, a former Christie deputy chief of staff, sent to Wildstein on Aug. 13, 2013, almost a month before the unannounced lane closures.
"Time for some traffic problems in Fort Lee," Kelly wrote. "Got it," replied Wildstein, a former interstate capital projects director at the Port Authority. He ordered the lane closures and monitored their progress at the bridge on the first day.
Paralyzed
The closures paralyzed traffic in Fort Lee, delayed emergency crews and caused widespread exasperation during the first week of the school year. Mayor Mark Sokolich repeatedly sought an explanation from Bill Baroni, a former deputy executive director at the Port Authority who ignored his pleas for help. Sokolich said he was being punished, and he didn't know why.
Wildstein and Kelly monitored the mayor's reaction until the shutdown ended early on the fifth day. Port Authority Executive Director Patrick Foye, an appointee of New York Governor Andrew Cuomo, a Democrat, ordered the lanes reopened in an e-mail that said state and federal laws may have been broken.
Baroni and Wildstein, who both said the lane closures were part of a traffic study, resigned in December 2013 as that explanation seemed more implausible amid an investigation by state lawmakers. When the Kelly e-mail surfaced in January 2014, Christie fired her and removed Bill Stepien as a political adviser.
Blindsided
Christie said he was blindsided by his aides, and he had no knowledge of the plot -- a viewpoint affirmed by a law firm he commissioned to explore the traffic jams.
Gibson Dunn & Crutcher LLP and its lead lawyer, Randy Mastro, blamed the plot on Kelly and Wildstein, saying in a March 2014 report that the pair acted for an undetermined "ulterior motive" in punishing Sokolich.
At a dinner in early December 2013, Wildstein told Christie's former press secretary, Michael Drewniak, that he discussed the lane closings with the governor during a ceremony marking the 12th anniversary of the Sept. 11 terrorist attacks, according to the report.
"Wildstein said this as he reiterated that the lane realignment was his idea and a legitimate traffic study, and he never admitted or even suggested to Drewniak that he or anyone else had any ulterior motive," Gibson Dunn reported.
Exchange
The exchange with Wildstein is a "reference that the governor does not recall and, even if actually made, would not have registered with the governor in any event because he knew nothing about this decision in advance and would not have considered another traffic issue at one of the bridges or tunnels to be memorable," the report states.
Mastro's firm charged taxpayers $7.4 million for its work. Like lawmakers, Mastro's firm wasn't able to question Samson, Kelly, Wildstein, Baroni or Stepien.
State lawmakers spent almost a year trying to figure out what the governor and members of his administration knew and when, issuing dozens of subpoenas and holding hearings that gripped the state capital of Trenton.
Their report last December also pinned blame on Kelly and Wildstein, while saying some key questions remained outstanding, including why Kelly sent Wildstein her "traffic problems" e-mail. It asked whether they acted on their own or with the knowledge and approval of anyone else.
Punitive Measure
"The evidence clearly suggests that the lane closures were intended as a punitive measure directed against Mayor Sokolich," stated the report by the law firm Jenner & Block LLP. "What the committee cannot say for certain is whether the closures were intended as retribution for the mayor's failure to endorse Governor Christie or some other, unknown reason."
They acted with "perceived impunity" in an environment at the governor's office and the Port Authority, in which they felt empowered to act with "little regard for public safety risks or the steadily mounting public frustration," according to the report.
Christie's office "responded very slowly and passively to mounting indications that serious harms had been inflicted on thousands of New Jersey motorists for political rather than legitimate policy reasons," according to the report.
Samson
Fishman has also been investigating the role of former Port Authority Chairman David Samson in the lane closures. He's also looking at weekly flights that United Continental Holdings Inc. offered between Newark Liberty International Airport and Columbia Metropolitan Airport in South Carolina, about 50 miles (80 kilometers) from a house in Aiken that Samson's wife owns.
Known to Samson and others as the "chairman's flight," it left Thursday afternoons and returned Monday mornings, running from September 2012 to April 2014.
It ended days after Samson left the authority. Prosecutors also examined several instances in which Samson may have used his post to benefit clients of his law firm.
Fishman's office also interviewed Dawn Zimmer, the Democratic mayor of Hoboken, New Jersey, about her claims that Christie's administration threatened to withhold Superstorm Sandy aid if she didn't back a redevelopment project involving Samson's law firm, Wolff & Samson PC. The firm represented a developer seeking to build an office tower in Hoboken.
Before it's here, it's on the Bloomberg Terminal.
LEARN MORE