Gang Wars Pit Family Against Family in Philippine South
Norman P. Aquino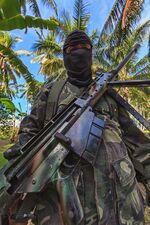 The afternoon heat often sends Filipino farmers inside to rest and brings a stillness to the country's restive south. That quiet was shattered two months ago by loud gunshots near Kampua Untong's house, jolting him awake and forcing him to flee his village.
Untong and his family were targeted in a clan war over land in Maguindanao, a poverty-stricken but resource-rich Philippine province where a 40-year Islamic insurgency has claimed about as many lives as the recent conflict in Syria. Under fire from a group of armed men, and with an infant and four children in tow, Untong and his wife ran for an hour to a river where a boat took them to safety.
"I was so scared I left everything behind," Untong, 46, said outside a relative's house in the remote village of Kalbugan in late March. "I came home three weeks later only to find our house burned down." Untong's soft voice broke, his face wrinkled and burned by years of fishing in a nearby marsh and planting corn.
Containing violence in the area is a bit like facing a Hydra sea monster from Greek mythology -- for every head cut off, two grow back. The Islamic militancy the government is seeking to halt is just part of the disorder that's stymied President Benigno Aquino's efforts to bring growth to the poorest part of the country, where conflict has blocked companies from tapping mineral deposits like gold, copper and nickel worth about $312 billion.
Warlords, bandits, and clan wars -- known as "rido" -- all exist alongside, and in many cases intersect with the broader insurgency. Clan wars will probably persist even if Aquino can get a peace deal with the main militant group to stick, given they are deeply entrenched. They can run for decades, involve hundreds of family members and start over a disputed marriage or even a basketball game.
Land, Politics
The fighting around Kalbugan that lasted about a month and killed at least two people was tied to a land dispute and affected 3,900 people, local village captain Sammy Abdul said. Untong says he was suspected of backing the family of Gani Saligan against that of Haji Bayan Abbas. Saligan is a leader of the Bangsamoro Islamic Freedom Fighters and Abbas a chief of the rival Moro Islamic Liberation Front, Abdul said.
"When family feuds arise, it's the organizations they belong to that usually get dragged into the limelight," Ismael Maulana, who heads the Autonomous Region in Muslim Mindanao's reconciliation commission, said in Cotabato City, a regional center. In reality, "conflicts on the ground usually have nothing to do with ideology or insurgency," he said. "Most often, they're about land and politics."
Peace Deal
The government has prioritized bringing the main militant group into the fold. Aquino signed a peace accord with the 11,000-strong Moro Islamic in March last year and wants to create a new autonomous political region called Bangsamoro with more powers and wealth to end a conflict that's killed as many as 200,000 people.
It's touted by Aquino as a chance to allow sustained exploration of the mining and energy assets in the area. The government estimates 202 million barrels of oil and 821 billion cubic feet of gas lie in the 456,000-hectare (1.1 million-acre) Cotabato basin, which includes the marsh where Untong fishes.
Mindanao can attract as much as $1 billion in investment under the new autonomous region, the government has said. Development of the island, which accounted for about 14 percent of Philippine economic output in 2013, is crucial to Aquino's goal of as much as 8 percent annual growth by 2016.
Family Warfare
The government has said little about tackling other sources of violence in Mindanao, including rido. "Development will be difficult if investors are worried that they might offend somebody or their employees might get into a family feud," Steven Rood, country head of the Asia Foundation, said by phone.
"Family warfare in the Mindanao region continues because of a weak rule of law," Rood said. "Vendetta killings involving families happen elsewhere, but nowhere are they more prevalent."
At least three people were killed and eight others hurt when armed men strafed a community in Lanao del Sur province on April 25, the military said. The motive may have been revenge after a recent rape, Agence France-Presse reported, citing a senior police officer. Villagers fled in fear of further attacks, it said.
The proposed Bangsamoro law seeks to address all conflicts through a stronger justice system, Miriam Coronel-Ferrer, the government's chief peace negotiator, said in an interview. "We need to undertake all the other institutional reforms that cover elections, security, political dynasties and even culture and values."
Maulana, whose office tracks vendetta killings in Mindanao, expects fights to increase ahead of the campaign period for the 2016 national election.
Brothers Kill
"It's the time when political families vie for votes and, sometimes, brothers kill each other for government positions," he said. "The Maguindanao massacre is a prime example of that."
Gunmen in November 2009 stopped a convoy carrying family and supporters of gubernatorial candidate Esmael Mangudadatu plus journalists, executing 58. Then-governor Andal Ampatuan Sr. and his son are fighting murder charges over the attack.
"Clan wars, seldom mentioned and a frequent source of conflict, are a big obstacle to peace," Mangudadatu, now Maguindanao governor, said in Manila on March 27. "Family feuds have existed since I was little and we need to settle them if we want peace."
No Gun
The aftermath of clan wars is often more serious than insurgency, Maulana said. "People can go back to their homes after the cease-fire, but a person who happens to be a relative or a friend of a warring family becomes an easy target."
Nearly 124,000 people were newly displaced due to conflict and violence in the Philippines last year, with fighting between the government and Islamic groups the main reason alongside "incidents of clan violence," according to the Geneva-based Internal Displacement Monitoring Centre.
About 127,000 people were still uprooted in the country as of March, it said.
Fish merchant Buka Abdul, 39, is one of those people. "I heard the sound of what seemed like 50-caliber machine guns from about 100 hundred men," he said of the Feb. 13 clash in Kalbugan. "I ran as fast as I can, with my wife and five children," he said. "I didn't want to die."
Abdul, who has only a basic primary education, said he doesn't own a gun and just wants to earn a living. That didn't stop BIFF rebels from burning his house down.
"The government must understand the relationship between clans and Muslim rebel groups if it wants lasting peace in the autonomous region and Mindanao as a whole," said Ramon Casiple, executive director of the Institute for Political and Electoral Reform in Manila.
'I'm Scared'
Lawmakers have committed to pass a bill creating the new Bangsamoro entity by June. The ARMM, created during a previous attempt at peace, had a 56 percent poverty rate in 2012, the highest in the country and more than twice the national average. Economic growth averaged 2.4 percent from 2012 to 2013, compared with the nation's 7 percent.
"The proposed Bangsamoro entity is a big step toward solving the Mindanao peace problem," ARMM executive secretary Laisa Alamia said in Cotabato City on April 1. "But it alone won't solve the problem."
Efforts to reach a peace accord were dealt a blow in January when a botched police action against suspected terrorists in Mindanao left 44 troops dead.
Untong is now caught between the desire to keep his family safe and the need to survive. The fisherman-farmer said he wants to return and rebuild his house soon.
"I'm scared that fighting will recur, but what can I do?" he asked. "I need to work so I can feed my family."
Before it's here, it's on the Bloomberg Terminal.
LEARN MORE