April Jinx Bringing Cruelest Month for Dollar Before Fed Meeting
Lucy Meakin and Chikako Mogi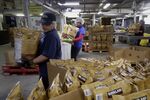 The dollar's best start to a year in at least a decade is unwinding. The currency is heading for a fifth-straight April of declines, spurred by speculation the Federal Reserve will delay raising interest rates.
The Bloomberg Dollar Spot Index held a five-day drop before a U.S. gross-domestic product report that analysts said will show last quarter had the slowest growth in a year. Sweden's krona surged at least 1 percent against all of its 16 major peers after the Riksbank unexpectedly kept its key interest rate at a record-low minus 0.25 percent.
"The move up in the dollar is stalled, correcting and you need patience," Kit Juckes, a global strategist at Societe Generale SA, said in an interview on Bloomberg Television's "On The Move" with Jonathan Ferro. "The next move needs to come from the Fed for the dollar. We'll probably get a GDP number of 1 percent or less this afternoon, so they're not feeling hurried."
Bloomberg's dollar index, which tracks the currency against 10 major peers, was little changed at 1,171.19 as of 7:27 a.m. New York time, after slipping 0.6 percent on Tuesday to close at its lowest level since Feb. 25.
The dollar gauge fell for a fifth day on Tuesday after a measure of consumer confidence published the same day was the latest indicator to trail forecasts. Citigroup Inc.'s U.S. Economic Surprise Index, a measure of whether data beat or fell short of economists' forecasts, dropped to minus 58.5 on Tuesday, the lowest since April 1.
Record High
Bloomberg's dollar gauge, which reached the highest on March 13 since its 2004 start date, is down 2.5 percent since March 31 and last recorded a gain in the month of April in 2010.
The dollar weakened 0.2 percent to $1.1000 per euro. It rose 0.3 percent to 119.26 yen, reversing Tuesday's 0.2 percent drop. The 19-member common currency gained 0.5 percent to 131.21 yen.
A report Wednesday is forecast to show the world's largest economy expanded an annualized 1 percent in the three months through March 31, according to the median estimate of analysts surveyed by Bloomberg. The Federal Open Market Committee will announce its policy decision after concluding a two-day meeting.
The dollar climbed 17 percent in the past 12 months, according to Bloomberg Correlation-Weighted Indexes, helped by speculation the Fed will be the first among major peers to increase borrowing costs. The yen lost 1.2 percent in the period and the euro slumped 9.4 percent.
Fed Policy
Fed officials have said any decision to raise interest rates would depend on economic data. With recent reports coming below forecasts, the FOMC will wait until September to increase borrowing costs, according to 73 percent of 59 economists surveyed by Bloomberg last week.
"The big selloff in the U.S. dollar that we've seen over the last few weeks has reflected how long the market was," said Thomas Averill, a managing director in Sydney at Rochford Capital, a currency and rates risk-management company. "I'd probably be leaning towards more of a pause in the dollar-bull trend rather than a complete reversion of it."
Sweden's krona climbed as the nation's central bank increased its unconventional stimulus measures to revive inflation but resisted cutting its main rate for a third time this year. Most analysts surveyed by Bloomberg had predicted a 10 basis point reduction to minus 0.35 percent.
The krona appreciated 1.2 percent to 9.2443 per euro, the biggest daily gain since Feb. 25. It strengthened 1.3 percent to 8.4065 per dollar.
"It's an economy that's pretty robust," said SocGen's Juckes. The krona is "a currency I like and I think it will strengthen further. But I'm pretty sure you'll see the central bank lean against that strength."
Before it's here, it's on the Bloomberg Terminal.
LEARN MORE