Why Is the Government Steering Corinthian Students to Other Troubled Colleges?
Janet Lorin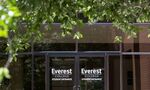 Corinthian Colleges Inc. students, whose schools shut down amid fraud allegations, are being steered by the U.S. Education Department to for-profit chains under investigation for similar misbehavior.
The department published "transfer options" for Corinthian's 16,000 students after their schools closed on Monday. More than a dozen colleges on the list, including those owned by ITT Education Services Inc., Career Education Corp. and Education Management Corp., face state or federal probes similar to ones that sparked Corinthian's demise.
"How in good faith can they tell these Corinthian students -- who just had their college disappear and are sitting on a pile of debt -- that these are viable transfer options?" U.S. Senator Richard Durbin, a Democrat from Illinois, said in a statement.
The Education Department needs to tell students upfront that transferring will probably make them ineligible for loan forgiveness, Durbin said. Corinthian's closure may cost taxpayers as much as $214 million in loan discharges, according to the department. Students whose schools shut are entitled to federal-loan cancellation unless they complete their programs elsewhere.
'Immediate Help'
"Our priority has been to offer immediate help to each of the 16,000 Corinthian students suddenly notified that their school would be closed," Denise Horn, a department spokeswoman, said in a statement.
At least 42 percent of Corinthian's students are within six months of completing their programs, and many want information on ways to finish, Horn said. The department sent all students information on canceling their loans, should they choose that option, she said.
Corinthian began its descent last summer after the Education Department curtailed its access to federal student aid, saying the company falsified grades, attendance and job-placement figures. The company has denied the allegations. Corinthian sold more than 50 campuses in November and closed its remaining 28 schools on Monday in the biggest shutdown in American higher education.
The schools have continued to enroll new students for the past nine months, despite calls from Durbin and other state and federal legislators that they cease. Many of Corinthian's offerings are nine- to 12-month certificate programs.
For each shuttered campus, the Education Department's website includes options of local colleges with similar programs of study.
Transfer Options
For Everest Institute's campus in Phoenix, it lists schools within 25 miles, including ITT Technical Institute, Career Education's Le Cordon Bleu College of Culinary Arts and Education Management's Argosy University. The list also includes nearby community colleges.
ITT Education has been sued by the Consumer Financial Protection Bureau for predatory lending and received a so-called Wells notice that the Securities & Exchange Commission may take enforcement action related to its accounting practices.
ITT filed a motion to dismiss the CFPB lawsuit and made a Wells submission to argue that no SEC action be brought, according to spokeswoman Nicole Elam.
Career Education is under investigation by more than a dozen state attorneys general for its recruiting, marketing and lending, according to regulatory filings.
Education Management was subpoenaed by the Education Department's Office of Inspector General for information on enrollment and attendance at Argosy and is under investigation by 14 states regarding its business practices.
Career Education and Education Management declined to comment. They have both denied wrongdoing.
Before it's here, it's on the Bloomberg Terminal.
LEARN MORE