Chinese Stocks in Hong Kong See First Two-Day Loss in Month
Kyoungwha Kim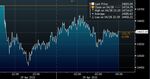 Chinese stocks trading in Hong Kong capped their first back-to-back loss in a month after the nation's biggest brokerage restricted the number of shares eligible for margin lending and commodity producers slumped on lower profits.
Anhui Conch Cement Co. dropped 3.2 percent after first-quarter net income plunged 30 percent. China Communications Construction Co. slid more than 4 percent in Hong Kong and Shanghai after Citic Securities Co. included the stock among those it won't accept as collateral for margin trading. China Petroleum & Chemical Corp. plunged 4.2 percent in Shanghai before earnings on Wednesday.
The Hang Seng China Enterprises Index in Hong Kong lost 0.8 percent to 14,603.04 at the close, after dropping 0.2 percent on Tuesday. Citic Securities said it will no longer accept more than 600 stocks as collateral for margin financing and short selling. The move comes a day after the China Securities Regulatory Commission warned new stock investors not to overlook the risk of investment losses.
"The CSRC's comments from yesterday and news today that Citic stopped margin trading for some stocks are weighing on sentiment," said David Welch, Hong Kong-based head of equity sales trading at Reorient Group. "Any correction will be short and shallow but profit taking on any given day is always a possibility."
The Shanghai Composite Index added less than 0.1 percent at the close, erasing a loss of as much as 1.7 percent as technology and consumer shares rallied. The CSI 300 Index advanced 0.7 percent, while the Shenzhen Composite Index rallied 2.1 percent. The Hang Seng Index slipped 0.2 percent. The Bloomberg China-US Equity Index lost 0.8 percent on Tuesday.

Earnings Concerns
The H-shares gauge has risen 36 percent in the past six months, compared with an 89 percent gain in the Shanghai Composite, according to data compiled by Bloomberg. The Hong Kong measure trades at 10.5 times reported profit, versus 22 times for the Shanghai gauge.
Agricultural Bank of China Ltd. slid 2 percent in Hong Kong after China's third-biggest lender reported a 1.3 percent advance in first-quarter profit and a 51 percent jump in provisions for bad debt. Industrial & Commercial Bank of China Ltd. and China Construction Bank Corp., the largest lenders, dropped at least 2 percent in Shanghai before reporting earnings later today.
Sinopec, the biggest oil refiner, posted its biggest loss in three months in Shanghai ahead of earnings. PetroChina Co., the second largest, earlier in the week posted a record-low profit. Anhui Conch dropped 3.6 percent in Hong Kong as Jefferies Group LLC downgraded the stock to hold after the cement producer reported a net profit of 1.71 billion yuan ($280 million), down from last year's 2.47 billion yuan.
Citic Move
Earnings in the Shanghai Composite trailed analyst estimates by 2.7 percent last year as 63 percent of companies missed projections. Results for the first quarter so far have lagged behind by 17 percent, according to data compiled by Bloomberg. While analysts predict profits will climb 28 percent in the next 12 months, they've cut per-share estimates by 9 percent since mid-October.
Investor confidence will start to sour if earnings don't improve, said Grace Tam, a global market strategist at JPMorgan Asset Management, which oversees about $1.7 trillion worldwide.
Citic Securities' list of stocks it no longer accepts as collateral for margin trading and short selling includes China Railway Construction Corp., China CNR Corp, CSR Corp. and Aluminum Corp. of China Ltd. Industrial companies have been the best performers in the CSI 300 over the past year, with China CNR and CSR surging sevenfold. The brokerage said in a statement that the collateral adjustment was "normal."
China Railway Construction slid at least 4.3 percent in Hong Kong and Shanghai, while Chalco tumbled more than 3 percent.
Souring Confidence
The outstanding balance of margin debt in Shanghai climbed to an all-time high of 1.22 trillion yuan on Tuesday, rising for a sixth day.
A quarter of global investors in a Bloomberg survey said Chinese markets would be among the one or two that would offer the worst opportunities over the next 12 months. Almost three in five depicted the Chinese economy as deteriorating, the poll showed.
Huayi Brothers Media Corp. jumped 3.4 percent to lead a rally for technology shares in Shenzhen after UBS Group AG recommended the stock before the start of an exchange link with Hong Kong. UBS analyst Steve Yang also favored Jiangsu Yanghe Brewery Joint-Stock Co. and BlueFocus Communication Group Co.
Before it's here, it's on the Bloomberg Terminal.
LEARN MORE