China CNR, CSR Said to Weigh Bombardier Train Unit Purchase
Bloomberg News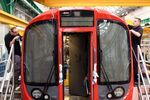 Chinese locomotive makers CSR Corp. and China CNR Corp. are considering the acquisition of a controlling stake in Bombardier Inc.'s train business, said a person familiar with the matter.
Deliberations are preliminary and the state-owned companies may decide not to proceed, said the person, who asked not to be identified because the information is private. Any deal to buy Bombardier's rail operations would come after CNR and CSR complete their planned merger, the person said.
Bombardier hired UBS Group AG and Citigroup Inc. to advise on a possible sale or initial public offering of the rail unit, people familiar with the matter said this month. That step followed Executive Chairman Pierre Beaudoin's February announcement that Bombardier "will explore" initiatives such as "potential participation in industry consolidation" to reduce debt.
Bombardier won't comment "on any public speculation as to what may or may not happen as a result of this evaluation," Isabelle Rondeau said Wednesday. She also said the rail unit "is not for sale."
Beaudoin himself had delivered a similar message, according to Quebec Economy Minister Jacques Daoust, who said earlier this month that the executive had ruled out an outright sale of the business.
$5.4 Billion
Bombardier may fetch as much as $5.4 billion if it decides to sell the rail unit, which has played a "stabilizing role" amid the struggles at the company's aerospace business, according to AltaCorp Capital.
Bombardier's Class B shares rose 2.1 percent to C$2.47 by the close of trading in Toronto. The stock has lost 40 percent of its value this year.
A spokesman for CSR said he had no information on the matter, while a call to CNR's press office wasn't answered outside regular business hours.
Acquiring the rail unit would give the Chinese companies an international presence and enable them to take advantage of surging exports.
The two Chinese companies announced a plan in December to combine in a $12.3 billion share swap. Shares of CNR have surged 364 percent and CSR 400 percent in Shanghai trading this year. That would make the combination the world's biggest railway company and the second-largest industrial company by market value, lagging behind only General Electric Corp.
CNR fell as much as 4.7 percent Thursday in Shanghai trading to 32.50 yuan while CSR dropped as much as 5.6 percent.
China's political leaders have touted the capabilities of their railway companies during overseas trips, helping them post record profits and win billions of dollars worth of orders. Chinese companies signed $24.7 billion of contracts for overseas rail projects last year, Commerce Ministry official Zhi Luxun said at a Feb. 5 briefing in Beijing.
Train Business
Citing people it didn't identify, Reuters reported earlier Wednesday that the Chinese trainmakers are exploring buying control of Bombardier's train business and have been in discussions with the Canadian company.
Bombardier's transportation unit, which builds locomotives, is worth as much as C$3.50 a share, giving negative value to the aerospace business, Chris Murray, an analyst at AltaCorp, said in an interview earlier this month.
A breakup could be the best way for Bombardier to overcome the struggles facing its aerospace business, analysts and investors have said. The rail unit, which includes subway cars and signaling and control equipment, is the healthier part of the company, with 2014 earnings before interest and taxes of $429 million compared with a loss of $995 million at the aerospace unit.
Bombardier has pushed back the commercial debut of the CSeries aircraft to 2016 from 2013 because of repeated delays that have raised the development cost of its largest-ever plane to $5.4 billion, at least $2 billion over budget.
— With assistance by Steven Yang
Before it's here, it's on the Bloomberg Terminal.
LEARN MORE