Cameron's Show of Political Passion May Be Too Late
Tory Prime Minister David Cameron has just over a week to overcome the odds and win a second term in Downing Street
by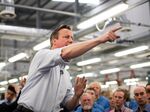 Jacketless, tieless and shirtsleeves rolled up, David Cameron wants Britain to know he's a man spoiling for a fight. With just a few days to go before polling day, it may be too little, too late.
Addressing workers and media at a maker of surveillance and navigational equipment in north London on Tuesday, the Conservative prime minister stressed he wants to hear from "real people'' and told his audience to "let rip''—suggesting that criticism that his campaign has been lackluster has hit the mark.
The Tory campaign for the May 7 election has been dogged by a failure to translate Britons' improved economic confidence into a meaningful lead in the polls. While falling unemployment, zero inflation, and record-low interest rates should have boosted support, pollsters are blaming the party's relentless focus on economic prudence and negative messages about the other parties for its failure to enthuse voters. Though the Tories remain neck-and-neck with Labour, opposition leader Ed Miliband has seen his approval ratings go up.
"If you bet the ranch on a single spin of the wheel and the number hasn't come up, you've lost," said Andrew Hawkins, chairman of polling company ComRes. "The British public may be a fickle bunch, but they do like a positive message and so far, it's been pretty negative. This means that when they hear the Tories talk of the long-term economic plan, people just think 'crikey, another five years of austerity.'''
Cameron's bid to deliver a feel-good message suffered a blow just before he started speaking at the headquarters of Kelvin Hughes in a business park in the swing district of Enfield North on the northern edge of the capital, with the release of figures showing the economy posted its weakest performance since late 2012.
"It's a timely reminder we cannot take the recovery for granted," the prime minister told the hand-picked audience from the company's workforce.
Still, Cameron's generally upbeat message was a contrast from previous campaign appearances, which have tended to concentrate far more on warnings that a Labour government under Miliband, backed by the Scottish National Party, would send Britain's debt ballooning and lead to the breakup of the U.K.
Neither Labour nor the Tories are predicted to achieve a majority on May 7, and it's unclear which will have most seats in Parliament. This means that the outcome will probably depend on the support of smaller parties, giving Labour the strongest chance of forming a government.

For Cameron, the failure to deliver a lead so close to polling day has sparked dissatisfaction within his own ranks, with thoughts reportedly turning to a potential leadership contest following an election defeat.
The Sunday Times said unnamed lawmakers, backed by unidentified donors, are planning a mass show of support for London Mayor Boris Johnson, who is favored to win a seat in a suburb of the capital, to become the next Conservative leader after May 7.
Peter Hall, an investment manager who has given almost £600,000 ($900,000) to the Tory party, and fellow donor Hugh Osmond, founder of the U.K. restaurant chain Pizza Express, were both cited as telling the newspaper that Cameron's campaign had been uninspiring.
Cameron rejected allegations from reporters at Tuesday's event that he had so far failed to engage with real voters.
"I've done five years of passionate prime minister," he said. "I believe in getting out there, that's what I've been doing."

The pressure is starting to show. While remaining committed to the biggest spending cuts of any party as part of a pledge to eliminate the deficit, the Conservatives have over the past month made policy promises at odds with their message of fiscal prudence.
Chancellor of the Exchequer George Osborne pledged a further £8 billion for the state-funded National Health Service without being able to explain, when questioned, where the money is going to come from. Cameron promised to extend local-council tenants' right to buy their homes to those living in nonprofit housing-association properties, a move that analysts said would be costly and might spark an affordable-housing crisis.
Part of the problem is that the Tory campaign, from an early stage, was overly focused on winning back Conservative voters who'd switched allegiance to the anti-European Union U.K. Independence Party, according to Wyn Grant, professor of politics at Warwick University. With an emphasis on stability and the promise of a referendum on EU membership, that meant sending a different message than that required to win over potential Labour voters worried about spending cuts and the cost of living.
"The campaign has been very focused on the core vote, and I don't think they have been particularly successful in getting people back from UKIP,'' said Grant. "They've got to hope the swing they're banking on may happen in the final days.''
Some polls suggest such a shift is still possible. The Conservatives had a six-point lead in a poll by Michael Ashcroft published on Monday, putting them at 36 percent, with Labour at 30 percent. Still, other polls this week have failed to show a significant lead.
By contrast, betting odds indicate that a Labour minority government is the most likely single outcome of the election.
"Negative campaigns often don't work—as when you're running a dirty campaign, you're wasting time not selling to voters your upbeat message to voters,'' said Hawkins at ComRes. "It's an opportunity cost.''


Before it's here, it's on the Bloomberg Terminal.
LEARN MORE