Calvin Peete, Top Black Pro Golfer Before Woods, Dies at 71
Stephen Miller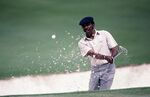 Calvin Peete, the most successful black golfer prior to the emergence of Tiger Woods, has died. He was 71.
He died on Wednesday in an Atlanta hospital, according to Laura Neal, spokeswoman for the PGA Tour in Ponte Vedra Beach, Florida. No further details were available.
Peete played on the U.S. PGA Tour from 1976 to 1995, winning 12 times while earning $2.3 million. Known as one of the game's most precise players, he led the Tour's driving accuracy percentage every season from 1981 to 1990.
"Calvin was an inspiration to so many people," PGA Tour Commissioner Tim Finchem said in an e-mailed statement. "I can still remember watching Calvin hit drive after drive straight down the middle of the fairway, an amazing display of talent."
His best year was 1982, when he won four times in 27 tournaments and had his highest finish in a major tournament, tying for third at the PGA Championship. Peete also placed fourth at the 1984 PGA Championship and tied for fourth at the 1983 U.S. Open. He never played the British Open.
Peete came late to golf, taking up the sport in his early 20s.
"I thought the game was silly," he said in a 1986 interview with United Press International.
He said the sport came naturally to him even though the power in his swing was limited by an arm that was deformed by a childhood fracture.
Accessible Sport
"I don't feel that there was any talent there," he said, according to a 1987 Esquire article. "I feel that it's something any person could do."
Peete was born on July 18, 1943, in Detroit, to Dennis Peete and the former Irenia Bridgeford. He was the youngest of their nine children, according to David L. Porter's 1995 book, "African-American Sports Greats." His father was a farm worker who had 10 more children from a second marriage.
Peete grew up working with his father harvesting corn and other crops. As a teenager he started a business selling clothing and jewelry to migrant workers out of the back of his 1956 Plymouth station wagon.
He played his first round of golf in 1966 on a public course in Rochester, New York. He managed to par one hole.
"That did it," he said according to a 1983 article in People magazine. "I was hooked."
First Win
He turned pro in 1971 and was 32 by the time he qualified for the PGA Tour -- late by conventional standards. He won his first tournament in 1979, the Greater Milwaukee Open.
Early in his career, Peete drove a pink Cadillac, had gems installed in his front teeth and sported patent-leather boots fitted with golf spikes. Fans called him "Diamond Man." With his Fu Manchu mustache and hooked arm, he didn't resemble the typical pro golfer.
Later he dropped some of the affectations while keeping the mustache.
"That was something to help my business," he said in the People interview. "I'm recognized as a professional golfer, and I don't have to flash."
After leaving the PGA Tour, Peete continued to compete on the senior circuit, earning an additional $952,010.
Peete married the former Christine Sears in 1974. They had five children and later divorced.
His survivors include his wife, Pepper Peete, and children, Calvin, Dennis, Rickie, Nicole, Kalvanetta, Aisha and Aleya, according to the PGA Tour.
Before it's here, it's on the Bloomberg Terminal.
LEARN MORE