Greece, Euro-Area Partners Target Deal by Sunday
Karl Stagno Navarra, Eleni Chrepa and Nikos Chrysoloras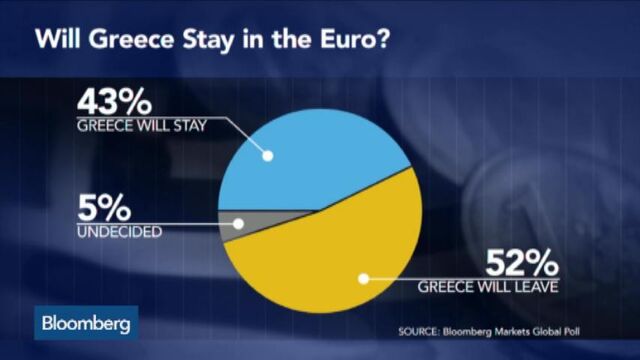 Greece and its euro-area partners are stepping up talks in a bid to break an impasse over bailout aid amid conflicting signals from the country's government over its willingness to agree on long-stalled reforms.
With Greece facing a cash crunch in early May, both sides in a meeting of euro-area officials agreed to pursue intensive negotiations beginning on Thursday with the target of a preliminary deal by May 3, according to three people with knowledge of the talks. The aim would be for finance ministers to sign off on the accord by their next scheduled meeting on May 11, the officials said, asking not to be named because the talks are private.
"I'm confident that there's a common will and that in particular the will of the Greek government is indeed to find a solution," French Economy Minister Emmanuel Macron told reporters in Rome.
A key factor in a potential breakthrough may be the decision by Prime Minister Alexis Tsipras to intervene and play a major role in the negotiations to help the process along. That gave the signal that his government may at last be willing to do what's needed to unlock the stalled bailout.
"There seems to be movement in translating the bullet points into action," Austrian Finance Minister Hans Joerg Schelling said in an interview in Vienna Wednesday ahead of the euro-area talks. "There is a clear recognition that we have to have enough on the 11th to be able to keep talking."
Hopes for a deal propelled Greek government bonds higher on Thursday with the yield on the 10-year government bond falling 26 basis points to 11.16 percent at 3:13 p.m. in Athens. The yield on Greek notes due in 2017 fell 73 basis points to 21.45 percent. Greek bonds have delivered a 13.2 percent return in the past week, making them the best performing of 34 sovereign securities tracked by Bloomberg's World Bond Indexes. The Athens Stock Exchange index trimmed earlier losses to trade 0.2% lower.
Red Lines
One European Union official cautioned that at the moment getting a technical deal by Sunday looked optimistic. Hard and long negotiations will take place over the coming days, with more talks planned for next week. Even so, reaching a comprehensive agreement by May 11 remains unlikely, the official said.
An agreement could still stumble at opposition within Tsipras's government as his cabinet prepared to take stock of the bailout talks at a meeting later Thursday. In a sign of the obstacles yet to overcome for a deal, Greece's finance ministry said in a statement Wednesday that the government "retains red lines" in the negotiations, which include a sales tax on islands, pension and labor market reforms and asset sales.
Greek Finance Minister Yanis Varoufakis on Thursday said Greece wouldn't discuss pension cuts or the sales tax increase in the current talks, with any pension reform being part of a broader agreement in June. He expressed hope that Greece would be able to regain market access after June.
"We hope that negotiations will result in a normalization of the situation, so that we can enter a recovery period after June, regain market access, sell bonds, in the framework of sustainable debt," Varoufakis told lawmakers in Athens.
Third Bailout
Creditors have insisted that an agreement be reached on the full package of measures and once that's done, Greece should be prepared to initiate talks on a third bailout after the end of June when the current program expires, one of the people familiar with the matter said.
Varoufakis was told by his counterparts last week that time was running out to fulfill promises to reform his economy in return for aid payments. Tsipras has since curtailed Varoufakis's role in day-to-day negotiations, reshuffling his staff.
With Greece running out of time to reach a deal ahead of debt payments over the next two weeks, Moody's Investors Service Wednesday downgraded ratings on the country's government bonds further into junk, to Caa2 from Caa1, one level below Standard & Poor's, while keeping a negative outlook. Moody's lowered ratings on bank deposit ceilings even further citing heightened risk of a deposit freeze if outflows continued and slashed its economic growth forecast for Greece to 0.5 percent from 1.2 percent.
The European Central Bank on Wednesday raised the amount of emergency liquidity available to Greek banks to 76.9 billion euros while signaling that access to such funds may become more difficult as bailout talks remain deadlocked. Staff have proposed increasing the discounts imposed on the securities banks post as collateral when borrowing, and the Governing Council may discuss the issue at its May 6 meeting.
Weekly ELA injections reflect deposit outflows, as liquidity buffers are kept at about 3 billion euros to give the Bank of Greece and the ECB time to react in an emergency. Household and business deposits fell 1.9 billion euros in March to 138.6 billion euros, the lowest level since January 2005, according to Bank of Greece data released Wednesday.
Reform Bill
The new negotiating team, which includes Deputy Foreign Minister Euclid Tsakalotos, is preparing a bill that may include changes to the country's taxation system and public administration. The bill won't be submitted to parliament unless it's part of a deal with creditors, a senior Greek official said.
Tsipras said earlier this week that he may need a referendum to garner public support for a deal that would go against the government's campaign pledges. Yet, a poll conducted after his remarks and broadcast on Mega TV on Wednesday showed that sixty-two percent of Greeks oppose a referendum and 78 percent want the government to reach a deal with its creditors.
A referendum could backfire, Schelling said.
"I see it like this: the government should govern," he said. "If it were to go in the wrong direction, then the situation will be even more difficult."
Before it's here, it's on the Bloomberg Terminal.
LEARN MORE