Aleynikov Jury Poisoning Claim Risks Mistrial in Code Case
Erik Larson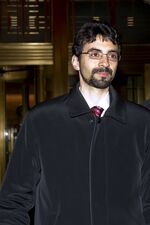 The second prosecution of Goldman Sachs Group Inc. programmer Sergey Aleynikov for taking the firm's software code was thrown into doubt when a juror claimed another member of the panel tried to poison her.
While the judge presiding over the case rejected the claim as unfounded, Aleynikov's lawyers may seek to force a mistrial by not agreeing to use alternates to replace the two jurors. Prosecutors said the allegations were "troubling."
New York Supreme Court Justice Daniel Conviser hasn't decided yet whether to remove them, and delayed proceedings so he could interview the rest of the jury. He revealed the accusation Wednesday as he considered a defense request for a mistrial.
The complaining juror had expressed concern about her ability to continue amid allegations of food tampering by a male juror, and alleged threats about going to the authorities over positions taken during deliberations.
"There is no basis in reality for her to believe he is poisoning her," Conviser said Wednesday. The juror leveling the claim had said she wasn't feeling well and that her thoughts weren't coherent, the judge said.
Jurors have been deliberating since April 22. Aleynikov, 45, is charged with taking the firm's high-frequency trading code in 2009 when he left for a new job with Teza Technologies LLC, the firm founded by former Citadel LLC high-frequency trading chief Misha Malyshev. A federal conviction on the same charges was thrown out by an appeals court.
No Crime
Aleynikov said that he took the code but that his actions were a violation of bank policy, not a crime.
The deliberations in state court in Manhattan have been marked by juror confusion over the laws being applied, with repeated questions and requests for clarification from the judge, and extensive re-reading of witness testimony.
Wednesday, Conviser said he called the juror who claimed to have been poisoned after she didn't show up in court Tuesday. She said she was in a doctor's office and almost hung up on him, according to a transcript of a closed-door session read by defense lawyer Kevin Marino.
Conviser said the male juror she accused of poisoning her called his employer to ask if he could have a lawyer.
The juror's boss called the judge this morning to say he wouldn't, the judge said.
Before it's here, it's on the Bloomberg Terminal.
LEARN MORE