`Panicky Exit' by Fed Seen as Risk to Markets Even Amid 0.2% GDP
by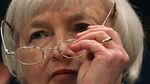 If you are the type who enjoys stories along the lines of "Here's the One Chart You Need to See Before the Fed Decision," then by all means take a gander below because it's arguably the One Chart You Need to See Before the Fed Decision.

As the chart from FBN Securities analyst J.C. O'Hara shows, "investors would rather wait to digest the Fed's message rather than to anticipate their verbiage." This is remarkable for a few reasons, one being the fact that the market's metabolism can still be measured in hours or days instead of microseconds. Also, after they "digest" the Fed remarks, it's remarkable how nourishing investors have found them to be even through the end of quantitative easing and the Fed's slow-motion backstep away from its commitment to a benchmark interest rate near zero. At least until Friday, at which point maybe they realize they've over-eaten and burp up a little bit of the feast. 
If there is only One Interpretation of the One Chart You Need to See Before the Fed Decision, it is this: to any extent that the stock market attempted to anticipate that central bank verbiage, it seems to have regularly anticipated a more hawkish message than what the Fed actually delivered.
Of course, charts are like potato chips: the saltier the better, and who is really satisfied after just one? Certainly not James Paulsen, chief investment strategist at Wells Capital Management. Jim loaded up a recent e-mail with several hand-annotated charts to make the argument that there are signs that the economy actually is at risk of overheating, and the "slow and steady exit of the Fed could actually quickly become a panicky exit!"
The notion of an overheating economy  may seem "contrarian" at best and "laughable" at worst on a day when the government reported gross domestic product that grew at a measly 0.2 percent annualized rate and negative quarter-over-quarter inflation.
But Paulsen's charts make a compelling case that today's report may possibly be a head fake and a "spring thaw" in the economy has the potential to cause a sharp and sudden reversal in investor expectations of the future path of interest rates. What he lacks in proper penmanship techniques, he makes up for with interesting observations about market conditions. Take for example his look at bank lending and home prices: 

Or the job market: 

Or what possibly could be the end of deflationary pressures from commodity prices: 

These charts were done before today's economic data was released but Paulsen stands by them, noting that a weak number was expected due to the frigid weather and West Coast port strikes.  
"A piece on `overheat' is not going to play well today with such a weak headline GDP report but that is also partly why I think the adjustment by the markets to sudden overheat evidence could be significant," he wrote in an e-mail.  
The bottom line, obviously, is that you should probably be looking at more than one chart before today's Fed meeting, or the rest of the meetings this year.  
Before it's here, it's on the Bloomberg Terminal.
LEARN MORE