Miliband to Business: Change Will Be Good For You
Labour's leader could be Britain's most left-wing prime minister in decades - but insists business has no reason to worry.
by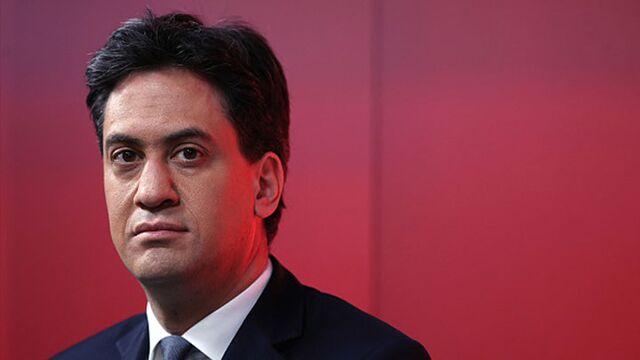 Bosses of Britain: Ed Miliband comes in peace. Well, more or less.
The Labour Party leader appears on course to become prime minister next month, unless the Conservatives achieve an electoral breakthrough, but he has a tricky pitch to employers and entrepreneurs. He's committed to raising taxes on the highest earners and those with expensive houses, as well as on banks and bankers' bonuses. He wants to make takeovers more difficult and to stop energy suppliers raising their prices.
Miliband, who has said he wants to encourage businesses that are "producers'' rather than "predators,'' denies this makes him an enemy of corporate Britain. Instead, he says he sees business as a partner in his mission to create a more equal U.K., though that's not a message that everyone will find reassuring.
"Some people don't like change,'' Miliband said in an interview as he traveled from Leeds to London at the end of a day's campaigning. "I understand why. I think, though, that sometimes change is necessary. It's change that will help business, not hurt business - I genuinely believe that.''

Every poll suggests the general election on May 7 will produce the messiest result since at least World War II. Not only will no party have a majority in Parliament, neither Miliband nor Conservative Prime Minister David Cameron look likely to be able to form a majority two-party coalition.
Yet the Labour leader, even if he comes second in both votes and seats, looks to have a better chance of forming a government, with more options for support from smaller parties to push through legislation.
If he wins, Miliband, 45, will have done so on a more radical platform than either Tony Blair or Gordon Brown, the last two Labour premiers. Where they allowed the finance industry to flourish with light regulation so that they could tax profits and spend the money on their own projects, Miliband has grander ambitions. He seeks to change the way the economy works.
"How do you tackle inequality?'' he asked. "Businesses don't say to me that inequality's not a problem. To meet the challenge we face, it's more important that the public and the private sectors work together than it's ever been.''
That's because of the continuing budget deficit.
"We're not going to have lots of money to spend; in fact we're going to have to make cuts,'' Miliband said.
"So therefore achieving the kind of society I want to achieve is absolutely about partnership.''

Blair and Brown addressed the problem of pensioners unable to pay their fuel bills by giving them extra money. Miliband proposes banning utilities from raising prices for 18 months. Where the last Labour government dealt with poverty with complex subsidies, Miliband proposes encouraging employers to pay their staff better.
What kind of society does the Labour leader want? While British politicians have traditionally looked to the U.S., Miliband sees the answers in Europe's social democratic citadels. Over three days in 2013, he visited Denmark, Sweden and the Netherlands.
He was looking for policy inspiration in some the highest-taxed countries in the world and said he'd found it in the Swedish concept of a nation "operating on the basis of solidarity.'' He was so at home in Sweden that when his staff lost sight of him at the airport, they joked he must have claimed asylum.
"The traditions of countries like the Netherlands, Sweden, Denmark have lots to teach us,'' he said at the time. "These are countries that have always relied on being able to trade and be open countries. At the same time as combining that, not like the U.S., with security, social solidarity and all of that.''
While Miliband is challenging policy conventions, his campaign has been safety-first.
In three different English towns on Thursday, the opposition leader addressed invited groups of supporters at rallies. His contact with potentially undecided voters was accidental, with people who approached him on trains or in rail stations as he traveled from stop to stop.
The cautious approach has continued, even amid the unexpected rise of "Milifandom'' - the phenomenon of teenage girls and young women declaring themselves wowed by the Labour leader.

While Miliband said he respects the points of view that makes people vote Tory, he believes his prescription for politics is the right one. 
"The challenge to the right is: How do you tackle inequality?'' he said. "It's not simply about the tax and benefit system, it's about the kind of economy you have.
"Everything we're talking about, whether it's a higher minimum wage, or the living wage, or apprenticeships for young people, or banking reform, they're about how you build an economy that has at its heart the solution. My opponents don't have the answers.''

Before it's here, it's on the Bloomberg Terminal.
LEARN MORE