Treasuries Divide Backs Bullard Warning Fed May Get Behind Curve
Wes Goodman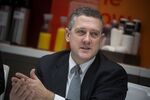 Short-term Treasuries are no longer the losers of the bond market, backing James Bullard's warning the Federal Reserve may fall behind in its efforts to cap inflation.
The president of the Fed Bank of St. Louis said in March the central bank risks being "behind the curve" on inflation if it doesn't raise its benchmark interest rate from near zero soon. Under the Fed's rotation system, Bullard is scheduled to vote on monetary policy next year.
Shorter-maturity notes, those most influenced by what the central bank does with its main interest rate, are gaining this month in a sign investors are postponing forecasts for an increase. Longer-term securities are falling as Fed efforts to spur the economy drive the outlook for inflation higher.
The split shows bond traders are growing more confident policy makers will delay raising borrowing costs to allow the economy to regain some momentum, following a run of mixed economic data over the past year. While costs are in check now, the risk to this strategy is that prices climb later.
"The market is looking for inflation," said Hajime Nagata, who invests in Treasuries for Tokyo-based Diam Co., which oversees the equivalent of $118.1 billion. Traders are dropping forecasts for a June rate increase and assigning higher odds to a move later this year, he said.
Benchmark 10-year Treasury yields were little changed at 1.92 percent at 6:52 a.m. in London, according to Bloomberg Bond Trader data. The price of the 2 percent note maturing in February 2025 was 100 22/32.
Reflecting Shift
Securities in an index of U.S. government debt due in one to three years have returned 0.1 percent on average in April, based on the Bloomberg World Bond Indexes. Treasuries due in a decade and longer have fallen 0.9 percent. It's the first time the market has shown this pattern since 2013.
Treasury yields reflect the shift. Investors demanded as much as 130 basis points of extra yield to own 30-year bonds instead of five-year notes on April 24, the most in almost five months.
The economic data are giving the Fed reason to hold off.
Growth in gross domestic product slowed to 1 percent in the first quarter from 2.2 percent in the last three months of 2014, based on a Bloomberg survey of economists before the report Wednesday. The figure has been falling since it reached 5 percent in the third quarter of last year.
On jobs, U.S. employers added more than 200,000 workers in both January and February, while hiring dropped to 126,000 in March.
Rising Costs
Meantime, the outlook for costs is rising.
Traders see inflation averaging about 1.7 percent in the next five years, based on a metric known as the break-even rate. That's a half-percentage point higher than the gauge showed at the end of 2014, approaching the central bank's 2 percent target. Inflation is currently running at 0.3 percent, based on an index the Fed monitors.
Central bank policy makers are scheduled to finish a two-day meeting Wednesday. After its March 17-18 session, the Fed said a rate increase is "unlikely" in April. Traders will be scouring the next statement for clues on what will happen when policy makers gather in June.
Before it's here, it's on the Bloomberg Terminal.
LEARN MORE