Total Net Beats Estimates on Fastest Output Growth, Refining
Tara Patel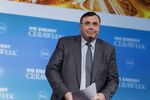 Total SA's first-quarter profit beat analyst estimates as the fastest production growth in more than a decade and gains in refining softened the blow from sinking oil prices.
Net income excluding inventory changes slid 22 percent to $2.6 billion from the year before, beating the $2.17 billion average of nine estimates compiled by Bloomberg. Adjusted net operating income from refining and chemicals, which benefit from lower oil prices, more than tripled to $1.1 billion, Total said.
"The main surprise comes from the upstream division," Bertrand Hodee, an analyst at Raymond James, wrote in a report Tuesday, referring to growth in Total's oil production. The results also gained on "stellar refining margins," he said.
Total will cut spending and jobs, and curtail exploration this year after Brent crude, the benchmark blend for more than half the world's oil, slumped by half amid a supply glut. The average price Total sold its oil for in the first quarter fell 50 percent to $53.90 a barrel from $108.20 a year earlier.
Cost savings include a hiring freeze to reduce head count by 2,000 this year and a 15 percent reduction in corporate staff through 2017, the Courbevoie, France-based producer said in a statement on Tuesday. Total plans $10 billion of asset sales in the same period, including $5 billion this year.
Europe's third-biggest oil company is "demonstrating its resilience and profiting from its integrated model," Chief Executive Officer Patrick Pouyanne said in the statement.
Refining Margin
Net income in the quarter fell to $2.66 billion, or $1.13 a share, from $3.34 billion, or $1.46, Total said. Sales sank 30 percent to $42.3 billion. The dividend was maintained at 61 euro cents (66 U.S. cents) a share, according to the statement.
European refining margins rose to $47.10 a ton from $6.60 on strong demand, particularly for gasoline. It was the highest level since the third quarter of 2012. Regional overcapacity will "weigh on margins in the medium term," Total said.
First-quarter output rose 10 percent to the equivalent of 2.395 million barrels of oil a day, in part on a new concession in the United Arab Emirates. Second-quarter production will be affected by maintenance in Nigeria, the U.K. and Norway.
Total expects output to rise 8 percent to 2.32 million barrels a day this year, in part on the start up of five projects including the Termokarstovoye Siberian gas venture in the second quarter.
Before year-end, it will begin operations at the Gladstone liquefied natural gas project in Australia, the Laggan-Tormore fields off the Shetland Islands, the Surmont 2 oil-sands development in Canada and Vega Pleyade field off Argentina.
The company wrote down the value of assets in Libya and Yemen due to "deteriorating security conditions," it said.
Total's results come the same day as BP Plc issues its quarterly earnings. Exxon Mobil Corp., ConocoPhillips and Royal Dutch Shell Plc are scheduled to report on Thursday.
Before it's here, it's on the Bloomberg Terminal.
LEARN MORE