This ETF Lets You Invest Like Icahn and Ackman, on the Cheap
The first activist-investor exchange-traded fund gives investors a diversified way to buy into boardroom drama
by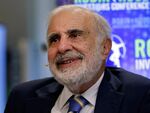 Looks like Carl Icahn and Bill Ackman have more in common than Herbalife now. 
Their activist conquests will soon be tracked by the new Global X Guru Activist Index ETF (ACTX), which aims to ride the coattails of 50 of the largest and most successful activist investors. It launches on April 29.
Activist investors typically try to buy a big chunk of shares in a company so they can get enough voting power to swing company proxy votes and get seats on the board. If activists can get board seats for candidates, they often push for such things as instituting a dividend, doing share buybacks, or pursuing mergers and acquisitions and spinoffs. That can unlock value for all shareholders—and spark criticism from the likes of Warren Buffett for encouraging a short-term focus driven by investors who aren't in the stock for the long haul. 
So how does an ETF track the Icahns of the investing world?
ACTX first comes up with a list of the 50 top activist investors in the U.S., based on criteria that include their size, success rate, and the frequency of their 13D filings. 13D filings are forms that must be filed with the Securities and Exchange Commission within 10 days of an investor coming to own more than 5 percent of a company. 
Then the ETF pores over activist quarterly 13F filings, which list the stock holdings of money managers with more than $100 million in equity positions, as well as 13D filings. After aggregating the equity holdings into one big list, it ranks the list by the dollar amount invested by activists. The 50 largest positions go into the ETF. It repeats this every quarter. 
Global X doesn't publicly disclose the identities of the 50 investors. Judging from the holdings, Icahn and Ackman are included. Six of Icahn Enterprises' top 10 positions are included, such as Apple and EBay. As for Bill Ackman's Pershing Square Capital Management, more than half its holdings are in there, including Zoetis and Canadian Pacific Railway. 
An important note about ACTX: Rather than weighting stocks by market capitalization, which is how 80 per cent of equity ETF assets are invested, it equal-weights a portfolio that includes some mid- and small-cap stocks. By giving an equal voice to smaller names, the ETF will have a little more zip on the way up and a bit more zip on the way down. Sometimes that will make it look as though the theme is working when—at least partially—the tilt toward smaller-cap stocks underlies the outperformance. 
Finally, in a thematic ETF such as ACTX, you definitely see overlap with other popular mainstream ETFs and funds. For example, ACTX holds such widely held companies as Apple, Microsoft, and McDonalds. Apple alone is held by more than 250 ETFs and 1,800 mutual funds, including most of the biggest ones.
ACTX is the first activist ETF, but an existing mutual fund called the 13D Activist Fund (DDDAX) has had a return of 17 percent in the past year. On the downside, it's almost as expensive as an actual hedge fund, with an annual fee of 1.75 percent and an initial load of 5.75 percent. For investors who put in over $1 million and had the front end load waived, the fund can charge 1 percent when they sell the fund. Additionally, the fund has a 2 percent early redemption fee if sold within 30 days. ACTX charges a flat 0.75 percent on assets annually.
In the end, ACTX is for those who like following activist investors but aren't rich enough to afford a hedge fund, are too busy to do it themselves, and are too smart to use an expensive mutual fund. 
Eric Balchunas is an exchange-traded-fund analyst at Bloomberg.
Correction, 5:05 p.m., April 29: Corrects details of the fees for the ACTX
Before it's here, it's on the Bloomberg Terminal.
LEARN MORE