T-Mobile's Promotions Fuel Growth as New Users Top Estimates
Scott Moritz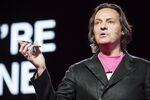 T-Mobile US Inc.'s data giveaways, rollover offers and price cuts fueled subscriber growth last quarter, prompting the mobile carrier to raise its annual forecast.
The fourth-largest U.S. wireless company added 1.1 million new monthly subscribers under its T-Mobile and MetroPCS brands in the first quarter, more than the average of 930,000 predicted by five analysts surveyed by Bloomberg.
T-Mobile has challenged the wireless industry to match its sales offers like data-stash giveaways, contract buyouts and free international roaming. The push enabled the smaller carrier to outpace bigger competitors Verizon Communications Inc. and AT&T Inc., which gained 565,000 and 441,000 users last quarter, respectively.
"New subscribers continue to respond to T-Mobile's attractively priced plans and 'no-contract' service," said John Butler, an analyst with Bloomberg Intelligence.
Sales increased 13 percent to $7.78 billion, the Bellevue, Washington-based carrier said in a statement Tuesday, topping the average estimate of $7.71 billion. Promotions and rate cuts continued to put a dent on the bottom line. The net loss was 9 cents a share, narrower than the 19-cent loss a year earlier.
T-Mobile shares fell 0.3 percent to close at $33.97 in New York. The stock has jumped 26 percent this year, while Verizon has gained 8.1 percent and AT&T has increased 3.8 percent.
Subscriber Forecast
T-Mobile raised its 2015 subscriber forecast to 3 million to 3.5 million, up from a February outlook of 2.2 million to 3.2 million.
The carrier added 991,000 monthly phone subscribers in the quarter, beating the 633,000 analysts predicted. T-Mobile has relied less on tablet sales to attract users than its larger peers.
T-Mobile, which is majority owned by Deutsche Telekom AG, was selected by Google Inc. to join Sprint Corp. as a network sharing partner for Project Fi, a Wi-Fi and cellular mobile service.
In the fourth quarter, T-Mobile changed its credit standards to accept a wider group of customers. Bad debt costs and losses from its financed phone sales arrangement increased to $169 million from $157 million a year earlier.
Before it's here, it's on the Bloomberg Terminal.
LEARN MORE