Standard Chartered Misses Estimates in Sands's Last Results
Stephen Morris and Richard Partington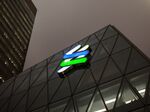 Standard Chartered Plc reported first-quarter profit that missed analysts' estimates, with all but one division reporting lower earnings in Peter Sands's final results as chief executive officer.
Pretax profit fell 22 percent to $1.5 billion from the year-earlier period, the London-based lender said in a statement on Tuesday. That missed the $1.6 billion average estimate of four analysts in a Bloomberg survey.
Standard Chartered hired Bill Winters, 53, a former co-head of JPMorgan Chase & Co.'s investment bank, to take over as CEO in June after Sands struggled to reverse two years of declining earnings and a slump in shares. The board has come under pressure from investors to move to Asia as U.K. taxes on banks continue to rise, with Finance Director Andy Halford saying on Tuesday that a move in domicile is "something that we continue to keep under review."
"We sense a bit of organizational water-treading until the new CEO Winters gets stuck in," said Sandy Chen, an analyst at Cenkos Securities Plc in London with a buy recommendation on the shares. "Winters' top priorities are relatively clear: clean up corporate governance and risk management in order to reduce regulatory pressures, cut costs" and "use disposals to top up capital ratios."
The shares fell as much as 3.6 percent, trading at 1,090.50 pence at 12:43 p.m. in London, down 2.2 percent on the day. They have increased about 12 percent since the management overhaul was announced on Feb. 26 after losing almost half their value over the previous two years.
Loan Impairments
Standard Chartered's retail operation was the only division to report rising earnings in the three months through March 31. Commercial banking income fell by 17 percent, the most of any unit, to $259 million. Income from corporate and institutional clients fell 5 percent to $2.5 billion, while private banking income decreased 4 percent to $152 million.
Loan impairment "remains elevated" in the first quarter, especially among corporate and institutional clients, rising 80 percent to $476 million compared to last year, according to the statement. Operating expenses rose 1 percent to $2.5 billion amid "continued significant investment in improving conduct and compliance systems and processes," the bank said.
"Trading conditions remain challenging and the actions we are taking to de-risk, cut costs and build capital are having an impact on near-term performance," Sands wore in the statement. "However, underlying business volumes generally remain strong."
The CEO didn't participate in the media call on Tuesday.
Bank Levy
Adding to the bank's cost burden, Standard Chartered could pay about $540 million toward the bank levy this year, up by about $170 million from 2014, according to Halford.
"Such a significant increase on one line of the costs is clearly some food for thought," Halford told analysts. "But the bank levy is one of a number of factors that one would take into account when looking at the most appropriate place to be domiciled. We will continue to keep this under review -- no current plans to do anything different."
HSBC Holdings Plc, which paid 750 million pounds ($1.4 billion) in bank levies last year, the most among major British lenders, has also said it's reviewing whether to leave London, just days before an election next month.
The bank is "on schedule" to increase its common equity Tier 1 capital ratio, a measure of financial strength, to between 11 and 12 percent and save more than $400 million under a cost reduction program this year, according to Sands. The capital ratio was 10.7 percent at the end of December.
New Management
Under Sands, the lender reported a 30 percent slump in pretax profit in 2014, hurt by faltering economic growth in Asia, plummeting commodity prices and rising costs tied to misconduct such as the rigging of global currency markets. The bank is eliminating some 4,000 jobs and shutting equities trading to save about $1.8 billion in costs through 2017.
Among the new CEO's tasks will be choosing a new management team. Executives to leave this year include Asia CEO Jaspal Bindra and Viswanathan Shankar, head of Europe, Middle East, Africa and Americas. Chairman John Peace also plans to step down in 2016.
Standard Chartered is the first of Britain's five largest lenders to release first-quarter results.
Before it's here, it's on the Bloomberg Terminal.
LEARN MORE