Southwest Cancels 10 Baltimore Departures Amid Riots in City
Mary Schlangenstein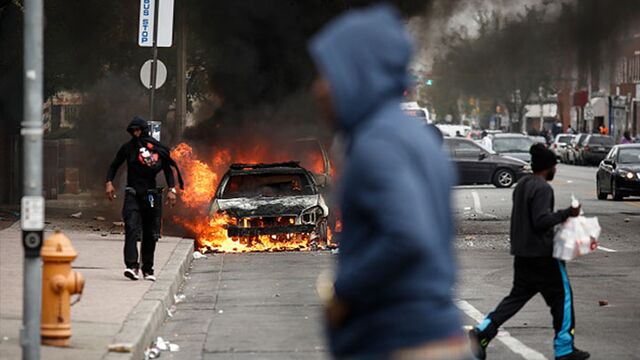 Southwest Airlines Co. canceled 10 early morning departures from Baltimore's airport, citing concern that employees and passenger safety would be at risk amid rioting in the city.
"You've seen what's going on there," Chief Operating Officer Mike Van de Ven said Tuesday in an interview. "The public transportation was shut down. We have people there in the National Guard being called up."
While the balance of Tuesday's schedule is under review, Southwest expects to make the rest of the day's trips as well as Wednesday's, said Emily Samuels, a spokeswoman. Southwest is the biggest carrier at Baltimore-Washington International Airport, and had 224 daily departures there as of Feb. 24.
The scrapped flights showed the scope of disruptions in Maryland's largest city from the unrest that followed the funeral of a black man who died of injuries suffered while in police custody. State officials imposed a state of emergency as the violence spread, including a curfew stretching from 10 p.m. to 5 a.m., and public schools were closed.
Jonathan Dean, an airport spokesman, said he wasn't aware of any other effects on airline service because of the rioting. Passengers on the canceled Southwest departures were shifted to other flights.
Early Workers
With the airport about 12 miles (19 kilometers) from the downtown area that was the focus of rioting, Southwest wanted to be sure early-shift workers could get to their jobs because of the end time of the curfew. Southwest's cancellations all involved takeoffs set for 9 a.m. or earlier.
"Not only our staffers, but the TSA or any other airport workers," Van de Ven said, using the acronym for the U.S. Transportation Security Administration. "We're just going to tactically operate through the day and make adjustments if we need to."
The financial industry also felt the fallout from the violence in Baltimore, with T. Rowe Price Group Inc. saying its headquarters in the city would stay closed Tuesday because of the riots and Legg Mason Inc. encouraging employees to work from home.
Before it's here, it's on the Bloomberg Terminal.
LEARN MORE