Adelson Says Ex-Sands China Chief Almost Destroyed Company
Edvard Pettersson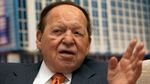 Sheldon Adelson, the billionaire founder and chairman of Las Vegas Sands Corp., said the man he fired almost five years ago as the head of his casinos in Macau was a "very strange man" who almost detroyed the company.
Adelson, 81, testified Tuesday for the first time in open court about his conflict with Steven Jacobs, who was fired in 2010 as chief executive officer of Sands China Ltd. and who has accused his former boss of requiring him to do "outrageous" and "illegal" things, including collecting compromising information on Macau government officials.
"I didn't trust anything that came out of Jacobs," Adelson told a Las Vegas judge, adding that Jacobs's wrongful-termination lawsuit has validated his distrust. "He tried to go behind my back and report to different members of the board so he wouldn't have to report to me."
Adelson, under questioning from James Pisanelli, one of Jacobs's lawyers, said he should have fired Jacobs sooner because he "tried to kill the company" by unilaterally deciding to cut out the junket operators who control the supply of high-end gamblers that account for 60 to 70 percent of the gaming revenue in the former Portuguese colony.
Adelson also told the judge that Jacobs was the first employee he had come across in 60 years as a businessman who had compiled a file titled "outrageous" when he started the job and used it to sue and "blackmail" his employer.
Why Fired
Jacobs alleges he was ousted because he clashed with Adelson over demands, among other things, to rehire a Macau lawyer who he said asked for a $300 million payment for Chinese government officials and to collect evidence on Macau government officials that could be used to "exert leverage" on them to thwart regulation unfavorable to Sands casinos.
Michael Leven, the former president and chief operating officer of Las Vegas Sands, testified last week that Adelson was concerned that Macau officials were giving him less favorable treatment than locally owned competitors in the former Portuguese colony. According to Leven, the Macau government had reneged on promises regarding Sands's expansion plans.
Adelson has denied he ordered Jacobs to investigate the business and financial affairs of Macau officials and has accused Jacobs of commissioning the investigations on his own accord. Sands has said Jacobs was fired for working on unauthorized deals and violating company policy.
Prompt Repair
"I had to repair what he did on the spot," Adelson said Tuesday, referring to incorrect statements Jacobs had made that Sands China would expand into Japan. "He did things on his own."
Adelson said he believed Jacobs was trying to embarrass him with the allegations in the lawsuit, which he said were "fabrications" and "delusions" because of the occasions he had stepped in and corrected his former chief executive's mistakes.
Nevada District Court Judge Elizabeth Gonzalez has steered the testimony away from the underlying reasons why Jacobs was fired and focused on whether the process was controlled from Las Vegas. Jacobs claims Sands China is, in effect, run by the parent company in Nevada.
The hearing that started last week is only to determine whether Jacobs can sue Hong Kong-listed Sands China, in addition to the Las Vegas-based parent, and Adelson, in Nevada. Sands China, incorporated in the Cayman Islands, said it doesn't do business in Nevada and shouldn't be in court there.
Conflict Evidence
Over the objections of Sands China's lawyers, the judge has allowed some evidence of the conflict between Jacobs and his former boss.
The judge last week permitted testimony about a report by a Hong Kong risk consultant who looked into the business relationship between Sands China and Cheung Chi Tai, an alleged organized-crime figure involved with junket operators who bring high-rollers from mainland China to gamble at the VIP rooms at Sands China casinos.
Leven testified last week that Las Vegas Sands commissioned the investigation in response to Nevada gaming regulators' concerns about media reports that Sands China was doing business with organized-crime figures in Macau. Based on the investigation, Cheung was barred from the Venetian Macau and other Sands China properties, Leven said.
Keeping the claims against the Macau company in the U.S. is important for Jacobs because he's trying to recover 2.5 million Sands China stock options, which would be harder to collect if he's forced to bring a separate lawsuit overseas.
Federal Probes
Jacobs "squeeled" to the U.S. Securities and Exchange Commission and Justice Department regarding his claims of purported illegal activity by Sands in Macau, Adelson said at the hearing. Both agencies opened Foreign Corrupt Practices Act investigations into the allegations.
"After four years of investigating, they haven't found a shred of evidence yet," Adelson said Tuesday.
Adelson took over as chief executive officer of Sands China in March as his most lucrative properties face a sharp decline of gaming revenue after years of rapid growth. Sands China, which last year accounted for about two-thirds of Las Vegas Sands' total revenue, reported a 54 percent drop in first-quarter profit last week.
China's crackdown on corruption has caused a 10-month slump for Macau's casino industry since June, as high-rollers avoided the city, the world's biggest gambling hub. The economic slowdown in China, a smoking ban in casinos and stricter visa rules also dampened business from mass-market gamblers.
The case is Jacobs v. Las Vegas Sands Corp., A-10-627691-B, Nevada District Court, Clark County (Las Vegas).
Before it's here, it's on the Bloomberg Terminal.
LEARN MORE