Scene Last Night: John Griffin on Mom, Theater and Shakespeare
Amanda Gordon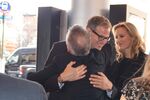 John Griffin, founder of Blue Ridge Capital, said he never became as great a theater lover as his mom. "I was always interested in business," the hedge-fund manager said Monday night at the off-Broadway Signature Theatre's annual benefit.
But Alice Griffin, who died in 2012 after a career spanning 60 years as a theater critic, editor and professor, did raise her son to appreciate the "double, double toil and trouble" that can take place on stage.
"My mom started taking me to theater when I was five or six," Griffin said. "The first thing she took me to was 'Macbeth.' I remember the witches, and I remember the murder."
When he was 11 or 12, they went to see "The Rocky Horror Show" at the Belasco Theatre, featuring not witches but a mad scientist named Frank N. Furter.
They never saw Hamlet, but Griffin said he read all of Shakespeare's plays, which he described as his mom's main passion. Her 11 books include "Shakespeare's Women in Love" and "Tales from Shakespeare," as well as studies of Tennessee Williams, Arthur Miller and Lillian Hellman.
The son stayed clear of school plays. "She never pushed me to act," Griffin said. "She never pushed me to do anything."
Griffin started out as an English major at the University of Virginia before switching to business. Skipping several acts, in 2011 he and his wife, Amy, made a $5 million gift to the Signature, resulting in the Alice Griffin Jewel Box Theater at its Frank Gehry-designed home on 42nd Street.
Ackman Support
Griffin recalled the "amazing night" in early 2012 that the "small, intimate" theater with just under 200 seats was dedicated. His mother "spoke extemporaneously" from the stage, about 10 months before she died at the age of 91.
"One line I remember was, 'My greatest production was my son, and his greatest achievement was marrying Amy, and their greatest productions are their kids,'" Griffin said.
"She was a pistol," the Signature's founding artistic director, James Houghton, said of Alice Griffin, as early evening light streamed into the lobby of the Pershing Square Signature Center (named in recognition of a $25 million gift from Bill Ackman's Pershing Square Foundation).
The Signature's "core" is playwright residencies that allow audiences, writers and actors to "dig into a body of work," Houghton said. Having the writer in rehearsals allows for "spontaneous creativity," he added.
Tony Nominees
The Signature is also committed to democratizing theater, with Pershing Square and other donors subsidizing two-thirds of the cost of a $75 ticket. "Making it accessible is almost as important as what gets put on stage," said executive director Erika Mallin. "It's not such a high-stakes moment with the babysitter, the dinner and the show. It's akin to a movie but it's live theater."
Guests included playwright Martha Clarke, who will be in residency at the Signature next season, and Judy Kuhn, who is up for a Tony for playing the mom in "Fun Home."
Also on hand were actor Edward Norton, the Signature's chairman, and Julian Robertson and Nancy Brinker who said they "laughed all night" at "A Gentleman's Guide to Love and Murder."
The Griffins said their recent Broadway date took them to "Something Rotten!", nominated for 10 Tonys, including best musical. "It's a musical comedy about Shakespeare," Griffin said. "All I know is Alice would have loved it," Amy Griffin said.
Over dinner -- kale salad, red snapper -- the Griffins were honored along with director and playwright Tina Landau, who returns to the Signature in 2016 to direct "Old Hats." Bill Irwin, one of the stars and creators of "Old Hats," dressed as a clown to egg on bidders during the auction.
Before it's here, it's on the Bloomberg Terminal.
LEARN MORE