Russia Set to Forgo Deeper Monetary Easing to Curb Inflation
Olga Tanas and Anna Andrianova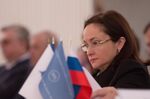 Russia's central bank will probably maintain its current pace of monetary easing, looking past ruble gains to keep a lid on the fastest price growth in 13 years.
The Bank of Russia will reduce its benchmark interest rate to 13 percent from 14 percent, according to 26 of 40 economists surveyed by Bloomberg. Nine analysts predict a decrease of 150 basis points and five see a cut to 12 percent. The regulator will announce the decision Thursday at about 1:30 p.m. in Moscow.
As Governor Elvira Nabiullina rolls back December's emergency increase to 17 percent, policy makers are trying to walk the line between reviving the recession-bound economy while blunting the risk of ruble instability and faster inflation. The world's best-performing currency this year has partially recouped losses after a crash in oil prices and sanctions over Ukraine stoked its worst crisis in 16 years.
"A significant rate cut would contradict the regulator's inflation target as that may spur sharp ruble weakening and limit a slowdown in inflationary expectations," Evgeny Koshelev, an analyst at PAO Rosbank, said by e-mail. "Sharp monetary easing will be a negative sign for foreign investors, indicating there won't be further cuts in the near future."
Rate Outlook
Derivatives traders also see borrowing costs falling at a slower clip, with forward-rate agreements signaling 128 basis points of decreases in the next three months, down from 158 basis points seen the day before the central bank's last rate meeting on March 13. A survey of 64 traders by the Tradition brokerage showed most respondents predicting a reduction to 12.5 percent.
The central bank cut the benchmark by a percentage point last month after delivering a surprise two-point reduction in January.
"We expect the central bank to be patient and maintain its gradual approach toward policy easing," Sberbank CIB analyst Vladimir Pantyushin said in a note to clients. "The regulator has based its moves on annual rather than weekly or monthly inflation, and certainly not on the latest market rates."
Consumer-price growth, which polls indicate is one of the main concerns for Russians, accelerated to 16.9 percent in March from a year earlier. The central bank, whose medium-term inflation target is 4 percent for 2017, estimates price growth will ease to 9 percent next March as the economy cools.
Ruble Strength
The ruble's strength is contributing to a slowdown in inflation, and "with other things being equal and no new significant negative factors," that will allow for a reduction in the key rate, Nabiullina said April 16 in Washington. "The ruble is in a more or less balanced situation," she said.
The Russian currency has gained 18 percent against the dollar this year after losing almost half of its value in 2014. It traded 0.2 percent stronger at 51.47 as of 3 pm in Moscow.
Comments by officials including Finance Minister Anton Siluanov last week that the ruble was too strong fueled speculation that policy makers may opt for a steeper reduction to curb demand for the currency. Even so, little has changed in the central bank's rhetoric to indicate a bigger rate cut may be in the offing, according to Goldman Sachs Group Inc.
"The Bank of Russia, for good reasons, has repeatedly stated that it wants to be a 'boring' and predictable central bank," Goldman Sachs economists including Clemens Grafe said in a report Monday. "If the central bank had decided to up the speed of the cuts, we would have expected it to signal through its communication by, for instance, stating that it is likely to lower its inflation forecast."
Recession Looms
The world's biggest energy exporter is entering its first recession in six years after gross domestic product gained 0.6 percent in 2014. While the Economy Ministry improved its growth forecast for this year, estimating GDP will decline 2.8 percent, the central bank sees a contraction of as much as 4 percent. Output fell 3.4 percent in March from a year earlier, the ministry said Wednesday.
A stronger currency can hurt the competitiveness of Russian exporters and cut into budget proceeds. While the Bank of Russia has said that ruble gains don't pose a threat to financial stability, it's curbed the supply of cheap dollars to lenders by raising the cost of borrowing foreign currency through its operations three times since the end of March. The measure spurred the ruble's worst stretch of losses last week.
"The central bank doesn't need to cut sharply as the ruble has weakened on increased foreign currency repo rates," Vladimir Miklashevsky, a strategist at Danske Bank A/S in Helsinki, said by e-mail. "But a 100 basis-point cut is definitely needed to further support the economy and to reaffirm the central bank's credibility."
Before it's here, it's on the Bloomberg Terminal.
LEARN MORE