Puerto Rico Debt Slides Amid Wrangling on Tax Plan to Raise Cash
Michelle Kaske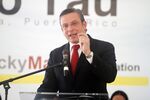 Yields on Puerto Rico's newest general obligations are setting record highs as lawmakers struggle to resolve a debate on tax changes that would pave the way for a $2.9 billion bond sale needed to ease a cash crunch.
With about two months left in the fiscal year, the island's House of Representatives isn't ready to vote on a plan to revamp the levy on goods and services in the junk-rated U.S. territory. As lawmakers wrangle with the details, yields on tax-exempt Puerto Rico general obligations maturing in July 2035 traded Tuesday with an average yield of 10.36 percent, according to data compiled by Bloomberg. The yield reached 10.42 percent last week, the highest since the bonds' sale in March 2014.
The Government Development Bank, which warned last week that the government risks shutting down within three months, has said the tax overhaul is essential to attract investors to the planned bond sale. Without cash from the new bonds, Puerto Rico may fail to shield its general obligations and sales-tax debt, dubbed Cofinas, from restructuring, said Philip Fischer at Bank of America Merrill Lynch.
"They've run out of many of their options," said Fischer, the bank's head of municipal research in New York. "The administration has indicated very strongly that it would like to preserve the integrity of Cofina and the general obligations. When you're in a situation of a possible insolvency, it's not clear how much you can control it."
Island's Burden
After years of borrowing to balance budgets, Puerto Rico and its agencies have racked up $73 billion of debt, more than any U.S. state except California and New York. Because most of the debt is tax-exempt nationwide, it's held by mutual funds and individual investors.
The island has struggled to grow since 2006 and is losing population, spurring speculation it will fail to repay the obligations. Puerto Rico's power utility is negotiating with creditors and may ask them to take a loss, which would be the biggest restructuring ever in the municipal-bond market.
Debt of the commonwealth and its agencies has lost 0.85 percent this year, the worst annual start since 2008, according to S&P Dow Jones Indices.
Argentina Comparison
The yields on the 2035 bonds, the most frequently traded island general obligations in the past month, are equivalent to about 17 percent on a taxable basis for investors in the top federal tax bracket. That compares with about 8.2 percent Monday on Argentina's benchmark dollar bonds, in default since July.
The more time it takes Puerto Rico to pass legislation to fix its finances, the more investors will question the island's ability to repay, said Daniel Solender, who helps manage $17 billion as head of munis at Lord Abbett & Co. in Jersey City, New Jersey.
"The longer they push it off, the more concern there is about dysfunction and the ability of the government to get resolutions that are necessary to achieve their financial objectives," Solender said.
Governor Alejandro Garcia Padilla, who had proposed a 16 percent value-added tax in February, now accepts the lower 14 percent rate being discussed in the House, said his spokesman, Jesus Manuel Ortiz.
"The governor and the legislative leaders continue conversations to ensure that the approved tax-reform bill contains the measures necessary to arrive at the targeted revenues," Ortiz said in an e-mail Monday.
48 Hours
Rafael "Tatito" Hernandez, who chairs the House Treasury Committee, said in an interview Monday that he needs at least 48 hours to discuss the measure with legislators.
The House may vote as soon as this week on a plan to boost the sales tax in June to 10 percent from 7 percent, he said from San Juan. Then a new 14 percent levy, to be called a goods-and-services tax, would expand the sales-tax base beginning in January, Hernandez said. The plan also includes tax breaks for lower-income individuals as soon as July 2015.
"We know we have a problem," Hernandez said. "We know we have to make sure that we have a plan that can be implemented but we're not killing the economy."
The changes may bring in $900 million of new revenue in the fiscal year beginning July 1, and would go toward paying debt service and retirement costs for public workers, Hernandez said.
The planned $2.9 billion borrowing, to be backed by oil taxes, would repay loans the highway agency owes the Government Development Bank. The bank's net liquidity fell to $1.1 billion as of March 31, from $2 billion in October.
"The best barometer of Puerto Rico's fiscal situation is GDB's liquidity," Fischer said. "It's been falling very rapidly."
Before it's here, it's on the Bloomberg Terminal.
LEARN MORE