Oil Price Is BP's Unlikely Ally as Trading Arm Boosts Profit
Javier Blas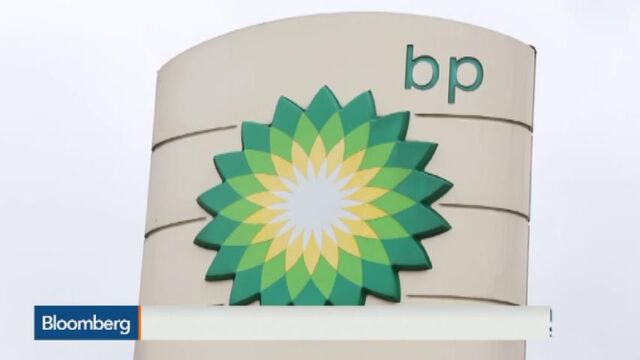 Low oil prices became an unlikely ally for BP Plc and Total SA during the first quarter as they boosted the profitability of their large trading operations.
Although better known for their oil fields, refineries and petrol stations, BP and Total together with Royal Dutch Shell Plc are also the world's biggest oil traders, handling enough fuel every day to meet the combined consumption of Japan, India, Germany, France, Italy, Spain and the Netherlands.
The European oil majors' sway in trading paid off from January to March as the weak market allowed their traders, operating from London and Geneva to Houston and Singapore, to generate higher returns by storing cheap oil today to sell it at higher prices later -- a market structure known as contango.
While companies are shy about the exact performance of their trading arms, BP provided some insight on the vast operation for the first time in years.
The company employed an extra $1.4 billion during the first quarter to take advantage of the contango storing fuel. BP Chief Financial Officer Brian Gilvary described the contango trades as "high return," with the company making $350 million more than a "normal" quarter from trading. If the money was used to hold crude, BP would be storing about 28 million barrels, equal to more than one month of the U.K.'s North Sea oil production, or 90,000 of BP's trucks.
"That's a large amount of oil and since they're trading actively, they can use that to their advantage and make money of it," said Richard Griffith, an industry analyst at Canaccord Genuity Ltd. in London.
Improved Conditions
In its earnings statement, BP said trading made a "stronger" contribution than previously. Together with stronger refining margins, that helped the company's adjusted profit in the first quarter reach $2.6 billion, more than double analyst estimates.
For its part, Total said that "improved market conditions," a reference to the contango structure, also boosted its profitability. The French oil company said adjusted first-quarter earnings dropped 22 percent to $2.6 billion, beating the $2.17 billion analyst estimate.
Oil prices have fallen to $60 a barrel from more than $100 a year ago, putting investors on guard for a steep drop in big oil's profitability. Exxon Mobil Corp., Chevron Corp., Shell and Statoil ASA are reporting later this week.
Trading could give European oil majors an edge over their U.S. rivals Exxon, Chevron and ConocoPhillips, which sell their own production, but largely eschew pure trading as a means of generating profits.
Wider Contango
BP and Total profited from the contango during the first quarter. The price difference between a Brent contract for immediate delivery and the one-year forward -- a measure of the contango -- averaged minus $8.90 a barrel during the first quarter, the largest since the global financial crisis. The price difference has narrowed in the second quarter, with the contango at minus $5.28 on Tuesday.
On top of the contango, other factors explain the rise in trading profits. After years of steady prices around $100 a barrel, volatility has surged, allowing traders to make more bets about the direction of the market. Lower energy prices also mean it takes less capital to make trades.
The in-house trading arms of oil companies take speculative positions from time to time, profiting from what BP describes as the "huge amount of information" about supply and demand that others do not have access to. Oil prices rose during the quarter as U.S. shale companies idled oil rigs, giving traders with better intelligence on the industry an opportunity to profit.
Complex Operation
BP runs one of the most complex oil trading operations in the industry, selling its own crude and refined products output and buying and selling from other companies. Its counter-parties are other oil firms, trading houses, hedge funds and final consumers such as airlines. BP said its trading arm closes "550,000 transactions and serves over 12,000 customers across more than 140 countries" every year.
In the past, oil trading houses have enjoyed stronger returns during bear markets with large contango.
Vitol, the world's largest independent oil trader, had record net income of $2.28 billion in 2009, up from $1.36 billion in 2008, company accounts show.
Fitch Ratings anticipates that oil traders "are likely to report healthy earnings in 2015 as they benefit from volatile oil prices."
Blow-Out Year
Ivan Glasenberg, chief executive officer of Glencore, said on March 2 that if the market continues as in the first two months, oil trading "could have a blow-out year" in 2015.
The amount of oil and fuel traded each day by BP, Shell and Total together dwarfs the combined size of independent traders such as Vitol, Glencore, Trafigura, Mercuria, Gunvor, based on company statements and people familiar with the market. Total traded almost 4.9 millions barrels of oil and refined products last year. While BP doesn't disclose its trading volumes, rivals put them at at least 6 million.
"Strong products trading means we can at least look forward from six months of negative earnings revisions" at BP, said Aneek Haq, an oil analyst at Exane BNP Paribas in London.
Before it's here, it's on the Bloomberg Terminal.
LEARN MORE