It's Been a Great Year to Invest In Junk-Rated Energy Bonds
Lisa Abramowicz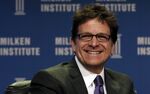 It's been a pretty great year to invest in U.S. junk-rated bonds of energy companies.
The debt has handed investors 6.4 percent in 2015, the best return for the period since securities rebounded from the credit crisis six years ago. The $200 billion U.S. market for energy-related high-yield notes has gained more than $11 billion in value so far this year, according to Bank of America Merrill Lynch index data.
With oil still only trading at about half of last year's peak, some of the market's biggest investors, like Crescent Capital Group's Mark Attanasio, are betting that a further bounce back in prices will extend the bond rally.
"It's actually exciting from a high-yield standpoint," Attanasio, a former protege of Michael Milken, who helped shape the modern junk-debt market, said in a Bloomberg Television interview on Monday. He sees the potential for "double-digit" returns on the top-tier portion of the market.
The view is something that's come up multiple times this week at the Milken Institute Global Conference in Beverly Hills, California. Stephen Schwarzman, who runs Blackstone Group LP, also said the world's biggest distressed-debt investment firm is also vying for a piece of this rally.
Oil Plunge
"We are quite busy in the fixed-income area with energy," he said in a Bloomberg Television interview Monday. "If you are financing energy companies that have a need for money, and you can make a satisfactory arrangement, that is a good place to be."
Of course, not everyone is convinced that now's the time to buy. While oil companies have responded to the plunge in crude by reducing production, there's still a glut of stockpiles and the lower global growth that's suppressed energy values.
Christopher Pucillo, chief investment officer of Solus Alternative Asset Management, is one who's more cautious. Forward oil prices would have to go lower before his firm would be interested in investing, he said Monday in a Bloomberg Television interview.
After tumbling more than 59 percent since last year's peak to $43.46 a barrel in March, crude has since rebounded to $57.07 as of 12:26 p.m. in New York.
But even if oil does head lower once again, it's hard to blame investors like Crescent Capital and Blackstone for getting excited. U.S. junk energy bonds offer 8.2 percent yields at a time when trillions of dollars of government debt worldwide offers, well, less than nothing.
Before it's here, it's on the Bloomberg Terminal.
LEARN MORE