Merck Raises 2015 Forecast as First-Quarter Earnings Beat
Cynthia Koons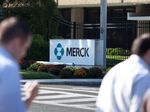 Drugmaker Merck & Co. boosted its annual profit forecast after the company beat first-quarter earnings and sales estimates, fueled by higher demand for vaccines and diabetes treatments.
The results, along with a positive outcome from a clinical trial of its biggest drug, helped propel Merck shares to their biggest intraday gain since January 2014. The shares rose 5.1 percent to $60 at 10:02 a.m. in New York, after climbing as much as 5.9 percent earlier. The drugmaker's stock had previously gained less than 1 percent in the last 12 months.
Profit for the year, excluding certain items, will be $3.35 to $3.48 per share, the Kenilworth, New Jersey-based company said in a statement Tuesday. Merck had forecast $3.32 to $3.47 in January, while analysts had predicted $3.37 on average, according to data compiled by Bloomberg. It left its sales forecast unchanged.
Sales of diabetes pill Januvia rose 4 percent to $1.39 billion, and revenue from a collection of vaccines for diseases such as measles and chicken pox climbed 24 percent to $348 million.
Merck is looking for growth from newer therapies such as its cancer treatment Keytruda as drugs like the asthma medicine Singulair lose sales to cheaper generic copies. Keytruda recorded sales of $83 million during the period, up 66 percent from the fourth quarter.
"Merck's key franchises generally performed in-line or better than expected," Vamil Divan, an analyst with Credit Suisse, said. "These solid results are encouraging."
Profit excluding certain items was 85 cents a share, Merck said. Analysts had forecast 75 cents on average, according to data compiled by Bloomberg. Revenue fell 8.2 percent to $9.43 billion. Analysts had forecast $9.09 billion on average.
The strong U.S. dollar hurt sales, with foreign exchange rates cutting 5 percent from first-quarter revenue.
On Monday, Merck said that a clinical trial of Januvia, the diabetes pill, showed the drug didn't increase patients' heart risk compared with a placebo. U.S. regulators had the company to study whether the medicine could present an unacceptable cardiovascular risk, and the shares gained in late trading Monday after the results were announced.
Before it's here, it's on the Bloomberg Terminal.
LEARN MORE