Los Angeles Power Prices at Record April Low on Trapped Solar
Naureen S. Malik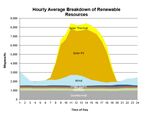 Average monthly prices for Los Angeles spot electricity are trading at a record low for April as planned work on a transmission line limits distribution of solar and wind generation.
The 5,400-megawatt PATH 15 line between the northern and southern regions of the state has been operating at about a third of capacity over the past month, according to data from the California Independent System Operator Corp. and Genscape Inc. The line will return to full service on May 17, grid reports show.
Renewable generation has totaled 3.5 million megawatt-hours so far this month, 22 percent of daily power supply, versus 20 percent the same time last year, grid data show. New solar and wind plants are driving the state's jump in low-carbon capacity.
"A line outage has at times trapped a large amount of combined wind and solar generation, driving down prices for Southern California," Chris DaCosta, a Boston-based analyst with Genscape, said in an April 27 interview. "It's not unusual for them to work on the line at this time of year, but usually it's not for this long."
Spot on-peak power at Southern California's SP15 hub dropped 49 percent from a year ago to average $25.04 a megawatt-hour this month through Monday, heading for the lowest average for April in prices going back to 2009, according to grid data compiled by Bloomberg. On-peak hours on the grid are from 7 a.m. to 10 p.m. local time.
Southern California prices traded at a discount of $8.68 Monday to power in the northern part of the state, widening from a three-month average of $4.45.
Renewable Gains
"Prices are not low in the north," DaCosta said. "When the de-rate ends prices should normalize between the two regions."
Renewable generation, which includes wind, solar, small hydro, biomass and biogas plants, jumped 23 percent this month through April 27 from the same period last year, California ISO daily reports show. Total output increased 12 percent during the same period to 15.6 million megawatt-hours. One megawatt is enough to power about 1,000 homes.
The rise of solar is helping to fill the gap left by a drop in hydroelectric generation, as the state grapples with a record drought. Governor Jerry Brown issued statewide mandatory water restrictions on April 1. Hydro generating capacity may drop to a decade low of 4,628 megawatts during the summer peak season, down 40 percent from 2014, the California ISO said mid-April.
Solar Output
Higher renewable output is weighing on third-quarter prices. SP15 on-peak power is valued at $37.40 a megawatt-hour, a 65-cent discount to the NP15 hub for the period, according to Bloomberg Fair Value prices.
Solar generation will be 2.1 gigawatts higher this summer than a year earlier, and the "large increase in solar generation is lowering gas-for-hydro substitution" that would have been seen otherwise, Neel Mitra and Ryan Caylor, analysts with Tudor Pickering Holt & Co. said in a report to clients Monday.
Demand for gas from power plants may increase by 400 million cubic feet a day this summer instead of closer to 700 million without the jump in solar supplies, the analysts said.
Before it's here, it's on the Bloomberg Terminal.
LEARN MORE