Jeff Gundlach Doesn't Want DoubleLine to More Than Double
Devin Banerjee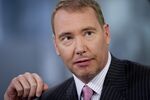 DoubleLine Capital's Jeffrey Gundlach said he wouldn't want his investment firm to increase assets to more than twice its current level, as he seeks to maintain top returns.
Gundlach, speaking Tuesday at the Milken Institute Global Conference in Beverly Hills, California, said large managers provide "beta," or benchmark returns, while small firms offer "creativity." DoubleLine, based in Los Angeles, managed $73 billion in mutual funds, closed-end funds and other vehicles as of March 31.
"We think about closing some of our strategies rather than trying to double them," Gundlach said, referring to an industry practice of closing funds to new investors while allowing existing ones to add to their holdings.
Gundlach, 55, runs the $46.36 billion DoubleLine Total Return Bond Fund, which has advanced 7.9 percent annually over the past five years to beat 99 percent of peers, according to data compiled by Bloomberg.
Investors in search of higher yields are putting money into riskier assets, Gundlach said. Market risks will increase with the growth of robo advisers, or online services that offer automated investment management advice.
"When one-size-fits-all solutions become automatically injected in the system, it means everybody's invested the same way," he said. "You start to get systemic risk as it proliferates."
German Bonds
In a Bloomberg Television interview from the conference, Gundlach also said he's considering a bet against German bonds. He would join a growing group of top money managers wagering against the debt after some yields turned negative.
"Let's say you leverage up the German two-year 100 times - - that's a 20 percent return," Gundlach said in the TV interview, referring to the potential short.
Before it's here, it's on the Bloomberg Terminal.
LEARN MORE