How Mayweather-Pacquiao Doubled Fight Revenue by Waiting 6 Years
Eben Novy-Williams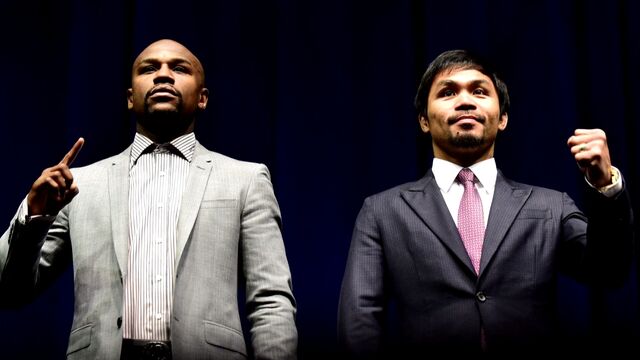 Patience has been profitable for Floyd Mayweather and Manny Pacquiao.
Six years after the two welterweight champions first discussed fighting, they'll meet Saturday in Las Vegas for the most lucrative boxing match in history. At least $300 million in revenue, largely from pay-per-view purchases and ticket sales, will be shared by the fighters, organizers say.
That's twice as much as the $150 million -- $165 million in today's dollars -- a Mayweather-Pacquiao bout would have generated in 2009, according to Pacquiao's promoter Bob Arum. Even though the two fighters are now at the tail end of their careers -- Mayweather is 38; Pacquiao, 36 -- the fight benefited from social media's growth, a recovered U.S. economy and a hype machine that has been cranking since 2009.
"We had six years of teasing the public," Arum, founder and chief executive officer of Top Rank Inc., said in a telephone interview. "You couldn't buy the publicity."
In those six years there were times the fight seemed imminent and other times it appeared impossible, as the two camps bickered over drug testing and revenue splits. For HBO Sports President Ken Hershman, once head of Showtime Sports, there was one thing he kept coming back to -- the money.
"I would do the math and sketch out the economics on a piece of paper and say, 'There's too much money here for it not to happen,'" Hershman said in a telephone interview from his New York office.
Nicknamed "Money," Mayweather was the world's highest-paid athlete last year, becoming the second after Tiger Woods to make over $100 million in one year. His past outside the ring -- he's been accused of assaulting five different women and served two months in jail in 2012 -- is in stark contrast to that of Pacquiao, a congressman and military reservist in his native Philippines.
$400 Million?
Conservative estimates from promoters have the fight making at least $300 million, a total that will be split 60-40 in favor of the undefeated Mayweather regardless of the outcome. Some, including World Boxing Council President Mauricio Sulaiman, have said $400 million is realistic.
The biggest piece of that total -- the number of pay-per-view purchases -- is also the biggest unknown. Most boxing experts say they're confident it will top the previous record of 2.48 million, which would bring in around $250 million. Most of that goes to the fighters.
"I have no doubt in my mind that this fight will set the record," said former HBO Sports President Ross Greenburg. "The question is, 'How high will it go?'"
Other numbers are easier to pin down. The gate was scaled to $72 million, more than triple the previous record, with a large majority of tickets bought and distributed privately by the casino and promoters. Sponsorships brought in more than $11 million, about five times more than most major fights, according to Arum.
Closed-Circuit
International television rights will bring in at least $35 million, with closed-circuit television, both inside and outside Las Vegas, totaling around $10 million. Merchandise, an afterthought for boxing, should be around $1 million, according to the promoter.
"The numbers other than pay-per-view revenue are so large that we start out with maybe $120 million before a single person buys the fight," Arum said.
In 2009, when the fight was originally discussed, Pacquiao and Mayweather were Ring Magazine's two top-rated pound-for-pound fighters. Since then Pacquiao has lost twice -- 2012 bouts to Timothy Bradley and Juan Manuel Marquez -- and Mayweather, while still undefeated, has begun to show his age.
Six of Mayweather's seven fights since 2009 have gone the full 12 rounds, with two majority decisions, the first two of his career. The one exception was a knockout of Victor Ortiz that came as Mayweather's opponent let his guard down to apologize for a headbutt.
Unified Titles
Mayweather (47-0) currently holds two welterweight belts and Pacquiao (57-5-2) one. The titles will be unified this weekend.
"This fight obviously has such great anticipation, but from a boxing standpoint, everyone wishes it was five or six years ago," Marv Albert, a long-time boxing commentator who now covers fights on NBC, said in an interview.
The U.S. economy is also in a different place. The country's real gross domestic product is up 12 percent since the end of 2009, and unemployment has fallen to 5.5 percent from 9.9 percent as the country climbs out of a recession spurred by the 2008 financial crisis.
2009 Effort
Greenburg, who ran HBO Sports from 2000-2011, tried unsuccessfully to set up a Mayweather-Pacquiao fight in 2009 and 2010. He said the growth of social media since those negotiations is the biggest catalyst in fueling more interest, and therefore more revenue, in 2015.
"The awareness factor alone will make this almost Super Bowl-like in its attention," said Greenburg, who is now working with Showtime on Mayweather programming.
Resale ticket prices have passed Super Bowl levels. The average ticket for this weekend's fight has sold for $8,800 on aggregator SeatGeek. The most-expensive sale, a $17,850 seat in the lower level, was the most expensive in SeatGeek's six-year history, eclipsing a $15,000 ticket for this year's NFL title game.
The six-year wait also places greater historical emphasis on this weekend's bout, said former boxer Sugar Ray Leonard, who won titles in five weight classes.
"This is their legacy, their history, their everything," Leonard said in an interview. "Whatever happens, this is going to the top of their resumes."
Before it's here, it's on the Bloomberg Terminal.
LEARN MORE