Hamilton Joins Rangers After Substance-Abuse Relapse With Angels
Erik Matuszewski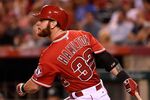 Josh Hamilton said he's ready to get back on the baseball field again after being traded to the Texas Rangers, the team he helped to back-to-back World Series appearances in 2010 and 2011.
The Angels on Monday traded Hamilton, 33, to the Rangers for a player to be named or cash, severing ties to the 2010 American League Most Valuable Player after he told Major League Baseball officials during the offseason that he had a relapse in his recovery from substance abuse.
"When it was made clear to me the Angels wanted to move me, my first choice was the Rangers," Hamilton said at a news conference. "I have a lot of good memories here. Looking back on it, if I could change the past, I would have stayed here."
Hamilton was an All-Star in each of his five seasons in Texas, batting .305 and totaling 142 home runs and 506 runs batted in. After joining the Angels with a 5-year, $125 million contract in 2013, he hit .255 with 31 homers and 123 RBIs over two injury-marred seasons. Hamilton hasn't played this year while recovering from a Feb. 3 shoulder surgery.
"I'm not over the hill," said Hamilton, who has been working out at a friend's house in Houston. "I just got my shoulder cleaned up along with some other things that have been bothering me the past few years. I feel really good in my mental state of mind and physical well-being."
Rangers General Manager Jon Daniels said Hamilton might be able to join the team in mid-May after spending time in extended spring training in Arizona and then on a medical rehabilitation assignment in the minor leagues.
Hamilton wasn't disciplined by MLB after an arbitrator ruled that he hadn't violated a treatment program, a ruling that Angels President John Carpino said "defies logic." The Angels started talking with the Rangers about a trade during spring training, according to MLB.com.
"I haven't been the player they wanted me to be, but I have worked my butt off to be that player," Hamilton said. "I had some unfortunate injuries. I'm doing my best to eliminate distractions and be the best player I can be. I don't feel I have anything to prove to anybody."
Before it's here, it's on the Bloomberg Terminal.
LEARN MORE