politics
Florida Sues Obama to Save State's Federal Health Subsidies
Erik Larson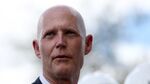 Florida Governor Rick Scott sued the Obama administration over claims it's threatening to end a low-income health-care program to coerce the state into expanding the use of Medicaid, a key element of Obamacare.
The warning to pull hundreds of millions of dollars a year in subsidies for Florida health-care workers is a "blatant overreach of executive power," Scott said Tuesday in a statement about the lawsuit.
The complaint in federal court in Pensacola, Florida, is the latest move by Republican governors pushing back against actions they contend facilitate broader implementation of the Affordable Care Act, Obama's signature legislative achievement.
The law, passed in 2010, seeks to extend insurance to millions of people in part by expanding state use of Medicaid, the federal health-care program serving the poorest Americans. The U.S. Supreme Court ruled in 2012 that Obama couldn't force states to expand eligibility for their Medicaid programs under the law, a decision Republicans have embraced. At least 20 states have refused to ease access to their Medicaid rolls.
Separate Program
Obama is now trying to get around the high court ruling by threatening to drain the state of federal money in an unrelated health-care program called the Low Income Pool, Florida Attorney General Pam Bondi said in a separate statement.
On April 14, the Centers for Medicare and Medicaid Services, which manages federal funding to the states for health programs, alerted Florida officials that it plans to let lapse at the end of June the $1.3 billion Florida gets annually to help hospitals cover the cost of treating uninsured patients.
"For the president to use LIP funding as a bargaining chip to force the taxpayers of Florida to accept the Medicaid expansion is not only wrong but it is also unconstitutional," Bondi said.
Florida has relied on the LIP money for nearly a decade, according to the complaint. The money is used to reimburse health-care workers who provide services for the uninsured, Scott said. The state has spent months trying to negotiate with the U.S., according to the complaint.
Aaron Albright, a spokesman for the Medicaid agency, said the program was temporary and had been previously set to expire in June. The pool funding shouldn't be used to pay for costs that would be covered by an expansion of Medicaid, he said.
"The decision to expand Medicaid, or not, is a state decision," Albright said in an e-mailed statement. "We will work with Florida and each state that has an uncompensated care pool regardless of its Medicaid expansion status, to support access to health care for low-income residents that works for individuals, hospitals and taxpayers."
The case is Scott v. U.S. Department of Health and Human Services, 3:15-cv-00193, U.S. District Court, Northern District of Florida (Pensacola).
(Updates with Medicaid official in ninth paragraph.)
Before it's here, it's on the Bloomberg Terminal.
LEARN MORE