Five Things Everyone Will Be Talking About Today
Get to the core of today's issues
by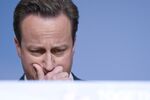 Apple's monster quarter, BP's big beat and a challenge for David Cameron. Here are some of the things people will be talking about today.
Apple had a massive quarter
The bar was high and Apple still beat expectations. Over 61 million iPhones sold, revenue climbed 27 percent, quarterly profit rose 33 percent and the company boosted its capital return program by $70 billion.
David Cameron gets some bad news
It's the last major piece of economic data in the U.K. before the general election next week and it wasn't pretty. First-quarter U.K. GDP came in at 0.3 percent, the weakest expansion since the fourth quarter of 2012.
BP smashes estimates
First-quarter profit at Europe's second-biggest oil company may have dropped 19 percent from a year earlier but at $2.6 billion it was more than double analysts' estimates. Strong trading and improved margins on the refining side of the business helped offset some of the impact from plunging oil prices.
Tsipras hints a referendum could be coming
In an interview on Greek television late last night, Prime Minister Alexis Tsipras gave his strongest signal yet that it may be left to the Greek people to approve any deal that isn't in line with his pledge to end austerity.
No liftoff until September?
The Federal Reserve begins its two-day meeting today. No change to policy is expected tomorrow or for the next five months. According to economists surveyed by Bloomberg News, the long awaited liftoff won't happen until September.
Before it's here, it's on the Bloomberg Terminal.
LEARN MORE