Indonesia to Execute Drug Smugglers by Firing Squad on Wednesday
Rieka Rahadiana and Agus Suhana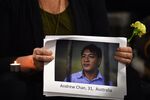 Indonesia will execute nine drug smugglers by firing squad early on Wednesday, the country's attorney general said, in a decision that may raise diplomatic tensions with neighbor Australia.
All nine convicts will be executed at the same time early Wednesday local time, Attorney General H.M. Prasetyo said in a televised press conference in Jakarta late Tuesday. Tuesday is also the last opportunity for the nine to talk with their families at a prison in Nusa Kambangan island off Java, he said earlier.
The group of convicts includes two Australians, Myuran Sukumaran and Andrew Chan, the leaders of a gang of nine arrested for attempting to smuggle heroin out of the Indonesian island of Bali in 2005. It also includes three from Nigeria, one from Brazil, Ghana and the Philippines, alongside one Indonesian.
Australia, which opposes the death penalty, made more than 50 appeals for clemency, with Prime Minister Tony Abbott saying that executing the pair would be "beneath" Indonesia and against its best interests. The stand-off is the most serious since 2013, when Abbott refused to apologize amid reports Australia spied on Indonesia's leaders.
Indonesia's government said in December it would put to death 64 convicts, including foreigners. President Joko Widodo, known as Jokowi, has allowed the death penalty for drug crimes after a pause under the previous government, and repeatedly said he wouldn't show mercy for smugglers. His government has rejected Australia's proposal for a prisoner swap.
Before it's here, it's on the Bloomberg Terminal.
LEARN MORE