Ex-N.Y. Speaker Silver Pleads Innocent to New Charges
Bob Van Voris and Patricia Hurtado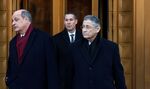 Former New York Assembly Speaker Sheldon Silver pleaded not guilty to new charges that he moved kickbacks into high-yield investment funds, in a federal corruption case that has already forced the Manhattan Democrat to step down from his post. A judge set a Nov. 2 trial date.
Silver, 71, one of the most powerful New York politicians for more than two decades until his arrest, used his relationship with an unidentified investor to distribute "crime proceeds across numerous high-yield investment vehicles not available to the general public," prosecutors said in a revised indictment filed last week. The investor wasn't told where the money came from, the government said.
In court today, prosecutors wouldn't rule out the possibility of additional charges against Silver, after U.S. District Judge Valerie Caproni asked about a trial date. Prosecutors first filed charges against Silver in January, indicted him in February and added four new charges April 23.
"Can you give me a hint that this is it?" asked Caproni, who earlier this month rebuked Manhattan U.S. Attorney Preet Bharara for engaging in a "media blitz" about Albany politicians that hurt Silver's chances of getting a fair trial.
"Our investigation is continuing," Assistant U.S. Attorney Carrie Cohen replied, saying new charges could be added, "if we find evidence of criminal behavior. I do not rule out that if we discover something as we continue our investigation."
On leaving court, Silver said he's ready for a quick trial.
Silver 'Confident'
"I hope and am confident that I'll be totally vindicated after a full airing of the facts," he said.
Silver once had control over Assembly rule-making that gave him power to decide which bills would go to a vote. The U.S. alleges Silver reaped almost $4 million in kickbacks and illegal fees tied to two separate frauds and by extortion. He faces as long as 20 years in prison if convicted.
Prosecutors claim in the new charges that Silver sought to hide ill-gotten gains from 2006 to 2015, putting some in the name of a family member to avoid reporting requirements.
The case is U.S. v. Silver, 15-cr-00093, U.S. District Court, Southern District of New York (Manhattan).
Before it's here, it's on the Bloomberg Terminal.
LEARN MORE