Europe's Deflation Specter Moving On
Alessandro Speciale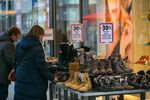 The euro area's brush with deflation might be over before it even started.
After falling for four straight months, consumer prices in the currency bloc were unchanged in April, according to economists polled by Bloomberg. The respite, coming just as the region's recovery improves, signals that the effect of a slump in oil prices is petering out without triggering a reinforcing decline in prices and wages. In Germany, inflation accelerated more than economists forecast this month.
The European Central Bank, which started buying sovereign debt in March to counter the threat of deflation, may find more evidence in coming days that the 19-nation economy is on the mend. Falling euro-area unemployment and encouraging data from Germany to Spain will support policy makers' projection of a gradually strengthening recovery whose biggest risk is an imminent exit of Greece from monetary union.
"Further signs of improvement in inflation data should help ease fears of a dangerous deflationary spiral," said Johannes Gareis, an economist at Natixis in Frankfurt. "The ECB will probably hail the better inflation development. But for euro-zone consumers, the deflation scare didn't even start."
Depressed by oil prices falling almost 50 percent in the second half of 2014, the inflation rate turned negative in December and fell to minus 0.6 percent at the beginning of the year, matching an historical low. The decline has since eased and probably came to a halt in April, according to the median of 40 estimates in a Bloomberg survey. Eurostat will publish the report at 11 a.m. on Thursday in Luxembourg.
Confirmed Recovery
The rebound coincides with the roll-out of the ECB's 1.1 trillion-euro ($1.2 trillion) quantitative-easing program. Its full implementation will bring inflation back toward the central bank's goal of just below 2 percent by 2017 and foster the fastest growth since 2007, according to the ECB's own forecasts.
Amid emerging signs of inflation, top money managers are turning against euro-area government bonds.
Germany's 10-year yields rose to the highest level in six weeks on Wednesday as securities slumped across the region after DoubleLine Capital's Jeffrey Gundlach said he's considering making an amplified bet against the nation's bonds. Germany's debt office failed to meet its sales goal at an auction of five-year notes.
Gundlach's comments, which chime with remarks by Janus Capital's Bill Gross and billionaire hedge fund manager Alan Howard, come as ECB officials claim the first successes of their QE plan.
Powerful Tool
"The impact of QE is being felt just as the recovery is being confirmed, and it will reinforce it," ECB Executive Board member Benoit Coeure said in an interview with the magazine Alternatives Economiques published on Tuesday. "It's a mechanism that is potentially powerful."
Bank lending increased in March for the first time since 2012, ECB data showed Wednesday. While ECB President Mario Draghi has been sounding more upbeat about the euro-area economic comeback since the start of QE, he has also warned that it won't be sustainable without structural reforms. He has said the current recovery is only "cyclical" so far and won't become "structural" unless governments deliver change that increase the region's long-term growth prospects.
Stubborn Unemployment
Looming large in policy makers' minds is still-stubbornly high unemployment across the region. The rate probably edged down to 11.2 percent in March from 11.3 percent in February, economists predicted before a report due on Thursday, continuing a very gradual downward trend that started almost two years ago. It still remains well above the pre-crisis low of 7.2 percent.
In Germany, consumers have been driving what the Bundesbank describes as "quite robust" economic growth. Prices rose 0.3 percent from a year earlier in April, after a 0.1 percent gain in March, the Federal Statistics Office said. The median forecast in a Bloomberg survey was 0.2 percent.
Retail sales rose 0.5 percent last month, according to economists, which would mark the fifth increase in the past six months. Europe's largest economy probably also saw a further decline in unemployment after it fell to the lowest level since reunification in March, according to a separate survey.
Spanish Strength
In Spain, where a slump in consumer prices is also easing, economic growth probably accelerated in the first quarter to the strongest in more than seven years. Economists predict gross domestic product increased by 0.8 percent in the first three months of the year. The data will be released on Thursday.
As indicators from across the region point to a strengthening recovery, fraught negotiations between Greece and its creditors are casting a pall over confidence in its survival. Economic sentiment unexpectedly fell to 103.7 in April from 103.9, ending a streak of four consecutive improvements.
The ECB approved an increase in emergency funding to Greek banks on Wednesday, as talks between the country's government and its creditors remain logjammed and debt repayments loom. The Governing Council lifted the cap on Emergency Liquidity Assistance by 1.4 billion euros to 76.9 billion euros in a telephone conference, people familiar with the decision said.
A Greek default on its debt and a subsequent exit of the country from the euro area would also put at risk the region's recent progress in restoring price growth.
"While we expect core inflation to gradually increase, it is a very gradual increase," said Anatoli Annenkov, senior economist at Societe Generale SA in London. "That also leaves the euro area very exposed to any negative surprises, with the specter of lowflation still far from behind us."
Before it's here, it's on the Bloomberg Terminal.
LEARN MORE