Confidence in U.S. Ebbs, Catching Up With Spending Slowdown
Michelle Jamrisko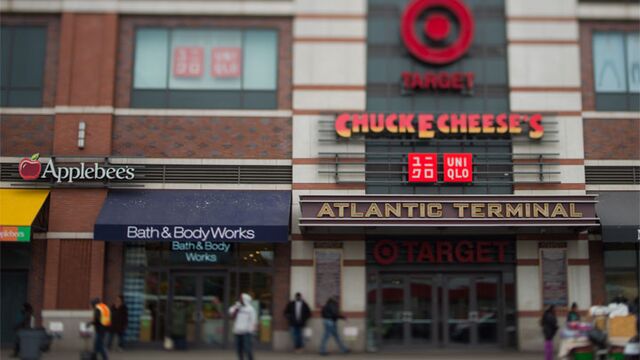 Ever since December, the collision between cooling consumer spending and buoyant consumer confidence has puzzled economists and investors. The clash is over for now, and optimism has suffered.
The Conference Board's consumer confidence index dropped to a four-month low of 95.2 in April, weaker than the most pessimistic forecast in a Bloomberg survey of economists, according to figures from the New York-based private research group Tuesday. Government data Wednesday are projected to show purchases grew in the first quarter at less than half the pace of the previous three months.
Americans said jobs were less plentiful after payrolls rose in March at the slowest pace in more than a year, and the higher cost of filling up at service stations meant extra cash was harder to come by. Plans to take a vacation or buy automobiles and appliances also took a step back this month, calling into question how much spending will rebound this quarter.
"The labor market part was a little weaker than expected, so I was a little disappointed with that," said Jim O'Sullivan, chief U.S. economist at High Frequency Economics in Valhalla, New York, whose projection was the lowest in the Bloomberg survey. "It's also possible some of this is a fading boost from the plunge in gasoline prices."
The Commerce Department's gross domestic product report on Wednesday is forecast to show first-quarter personal consumption climbed at the slowest pace in a year. Monthly data on retail sales have highlighted the uneven nature of consumer spending. Purchases rose less than projected in March -- up 0.9 percent after three straight declines.
Saving Rate
Instead, consumers were pocketing the windfall from the drop in gasoline prices and gains in employment. The saving rate climbed to 5.8 percent in February, the third straight increase and the highest in more than two years.
The median forecast in the Bloomberg survey of 77 economists called for a 102.2 reading in the confidence index, with estimates ranging from 99.5 to 105. The March figure was revised to 101.4 from a previously reported 101.3. The 6.2 point drop in April was the biggest since the federal government shutdown in October 2013.
The Conference Board data are at odds with other confidence measures. The University of Michigan reported earlier this month that its sentiment index improved to the second-highest level in over eight years as Americans held more favorable views of the economic outlook and inflation.
While the Bloomberg Consumer Comfort Index has declined for two straight weeks, it's also close to an almost eight-year high.
More 'Noise'
"This is probably noise more than signal because if you look at Michigan and the other indicators, they suggest things aren't as buoyant as they were last year but not as badly off as this number suggests," said Millan Mulraine, deputy head of U.S. research and strategy at TD Securities LLC in New York. "It's hard to think at this point in the economic cycle that confidence is declining rather than rising."
The figures showed the decrease was mainly influenced by more pessimism in New England as the gauge for the region dropped to the second-lowest level since March 2013. Sentiment was mixed in other parts of the U.S.
Another report Tuesday showed home prices in 20 U.S. cities appreciated at a faster pace than forecast in the year ended in February. The S&P/Case-Shiller index increased 5 percent after rising 4.5 percent in the 12 months through January. Nationally, prices climbed 4.2 percent.
Stocks rose as Merck & Co.'s profit outlook and a dividend increase from IBM Corp. helped lift equities. The Standard & Poor's 500 Index climbed 0.3 percent to 2,114.76 at the close in New York.
Consumer Expectations
The Conference Board's consumer expectations gauge for the next six months was the weakest since September, while the measure of present conditions dropped to a four-month low.
The share of respondents who said jobs were plentiful fell in April to the lowest level this year. The portion of Americans who said they expected their incomes to decrease in the next six months was the highest since October. Intentions to take a vacation were the weakest in almost two years.
Less optimism in April was accompanied by a deterioration in purchase plans. The share of those surveyed who said they would probably buy a car in the next six months fell to the lowest level since October. Fewer also said they were considering the purchase of major appliances.
Wage Gains
Faster wage increases would help propel bigger spending gains. Average hourly earnings advanced 2.1 percent in March from a year earlier, close to the 2 percent increase on average since the expansion started in June 2009.
Retailers including Wal-Mart Stores Inc. and Target Corp. have recently announced they'll increase the minimum wage for their workers.
Federal Reserve officials are monitoring pay as they await a stronger pickup in inflation that's been below their 2 percent goal for almost three years. Central bankers, who are weighing when to raise the benchmark interest rate for the first time since 2006, conclude a two-day meeting on Wednesday in Washington.
Before it's here, it's on the Bloomberg Terminal.
LEARN MORE