Colony's Barrack Says Amateurs All Over Riskier Assets
Madeline McMahon and Nadja Brandt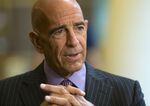 Too many investors have moved outside their areas of expertise as they seek higher returns, posing dangers for riskier assets, according to Colony Capital Inc. Executive Chairman Thomas Barrack Jr.
"Everybody is outside of their own asset class," Barrack said in a Bloomberg Television interview Tuesday with Erik Schatzker and Stephanie Ruhle at the Milken Institute Global Conference in Beverly Hills, California. "When amateurs enter the marketplace for all of this, you are going to get an abundance of something and it is usually not good."
Central banks globally have pushed investors into higher-yielding assets by reducing interest rates and purchasing bonds. The Standard & Poor's 500 Index reached an all-time high on Friday and sovereign debt in Europe is trading at negative yields.
"Institutional investors that are in this endless search for yield are ignoring the risk peril of all the consequences of those things," he said.
Investors with an abundance of liquidity have used real estate as a safe haven, Barrack, 68, said. Apartments in New York City and London are serving as a "safe deposit box" for foreign investors, he said. The influx of money, particularly from international players seeking less risk, has pushed up property values.
"Real estate has become the last bastion," he said. "The liquidity in the world has created this flurry for solidity. If you do not think there is a bubble at that level, you are going to be mistaken."
Little Experience
Capitalization rates, a measure of real estate investment yield that falls as prices rise, are being driven down by buyers with less experience in property investing, Sam Zell, the billionaire chairman of Equity Group Investments, said during a Global Conference panel discussion about real estate.
"Capital investment in the last 10 to 20 years is all about allocation," said Zell, 73. "It's not a whole bunch of amateurs, but a bunch of people that may not have a lot of experience in real estate, but with a whole lot of money."
To protect themselves from possible future losses, real estate investors should look for "equity-type returns" in the capital stack, Barrack said during the panel discussion.
"Floating debt can choke and kill you quickly," he said.
Stagnant Rents
While commercial-property prices have risen, office rents in most urban downtowns, with the exception of New York City, are effectively at the same levels as 20 years ago, Barrack said.
Including such expenses as leasing commissions, tenant improvements and property taxes, "if you effectuate down in current dollars, true office rents are about the same as in 1995," he said in the television interview.
Colony Capital oversaw about $24 billion of equity before Barrack combined it with Colony Financial Inc. this year. His firm in recent years has owned Michael Jackson's Neverland Ranch, invested in single-family rental homes and distressed mortgages.
"When the masses start entering the water and thinking they can navigate the waves, I get out," said Barrack.
Before it's here, it's on the Bloomberg Terminal.
LEARN MORE