Clegg Calls for U.K. 'Stability Budget' Within 50 Days of Vote
Robert Hutton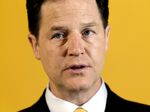 Nick Clegg said his U.K. Liberal Democrat party will demand that any coalition it joins publishes an emergency "stability budget" within 50 days of the May 7 election to reassure investors.
While polls indicate that Clegg's party would currently win only half the 57 Parliamentary seats it took in 2010, the failure of either the Conservatives or Labour to break through in the polls to a majority means it is still likely to form part of the next government.
"The only certainty about this election is that neither Labour nor the Conservatives will win a majority," Clegg told reporters in London on Monday. "So making sure the next government is safe and stable is the first and biggest challenge. The markets have already been spooked by the unfunded spending commitments the Conservatives have made."
While the Conservatives are pledging to run a surplus on all government spending by 2018, and Labour promises to balance the budget excluding capital spending by 2020, the Liberal Democrats are plotting a middle course. They're calling for a balance on current spending and about half of capital spending by 2018, after which they say the government should be allowed to borrow for "productive investment."
That would exclude borrowing for some capital spending, such as overseas aid, while including it for other kinds, such as transport infrastructure.
Before it's here, it's on the Bloomberg Terminal.
LEARN MORE